Family Asking Attorneys to Seek Justice in the Death of Ms. Yuan Pingjun (Photo)
September 24, 2010 | By a Clearwisdom correspondent in Hebei Province, China
(Clearwisdom.net) Falun Gong practitioner Ms. Yuan Pingjun, a resident of Shijiazhuang, was recently persecuted to death. In the wake of the tragedy, family members have had to overcome threats and cover-ups from police. They have since retained attorneys and are formally seeking justice through the legal system.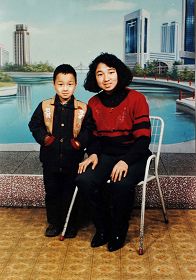 Yuan Pingjun and her son, before she died in police custody
On September 3, 2010, attorneys Xie Yanyi and Liang Xiaojun went to the Ningan Police Station on behalf of Ms. Yuan Pingjun's family. Police chief Zhao Zhiqiang seemed very nervous and immediately consulted with his superior. Only then would he then talk with the two attorneys. When the attorneys asked to meet with police officer Ren Xuanjun, who was responsible for Yuan Pingjun's case, the chief said that Ren was on vacation. The attorneys then requested to meet with director Liu Yongqiang, who had worked with Ren Xuanjun on the case. The chief said that Liu did not know much about the case and that he did not know where Liu was.
The conversation lasted half an hour in total. Police station employees answered the attorneys' questions carefully, covering for those responsible for the death of Ms. Yuan.
The attorneys stated that, under the guise of a "study camp," Ms. Yuan was illegally detained in a situation that ultimately lead to her death. They declared that, as a result, policemen Ren Xuanjun, Zhang Jun, and Liu Haojie of the 610 Office will be sued jointly for responsibility in her death if they are unable to provide proof that others were responsible for her death.
The two attorneys were questioned by the Department of Justice immediately after they returned to Beijing.
When Ms. Yuan Pingjun was at her rented street booth on 4 Yongtaizhong Street, Shijiazhuang, on August 2, 2010, she was deceived by chief Huang of the local residential committee to enter a nearby yard. She was then forced into a small van, which had been parked there waiting for her. When Ms. Yuan's husband, Zhang Yundong, returned home at noon that day, he found that a group of police officers, including officer Ren Xuanjun from the Ningan Police Station, had broken into his home and ransacked it. The police did not offer any legal documents. Before they left, they extorted 550 yuan from Zhang Yundong, saying the money was for Yuan Pingjun's living costs at the "Transformation Study Camp." When Zhang Yundong was at work at noon on August 11, he was abruptly told that his wife had died at the "Transformation Study Camp," located at 6411 South Bolin Road Hotel in the Xinhua District.
Zhang Yundong and his family saw Ms. Yuan's remains and noticed that there was a bloody hole in the back of her head. The family believes, based on this and other evidence, that Yuan Pingjun was tortured before she died.
Soon after, several Chinese Communist Party departments in the Xinhua District swiftly transported Ms. Yuan's remains to a crematorium to be guarded by the police and would not let her family hold a memorial service or set up a mourning site. They also sent police officers to threaten her family, telling them not to tell anyone, especially the media. They offered a "relief fund" of 100,000 yuan, on the condition that Ms. Yuan's remains be cremated, thereby eliminating any evidence of wrongdoing. Secretary Zhang of the Xinhua District 610 Office callously told Ms. Yuan's parents that: 1) they should understand that the "transformation camps" are not just approved by an individual, but are approved by all levels of governments all the way up to the Central Political Legal Committee; 2) from a "political point of view and sensitive problem point of view," they should not bargain with the government; and 3) they should cremate the remains as soon as possible in order to get a certain amount of "relief," but not "compensation" from government.
More information about Ms. Yuan Pingjun can be found at http://www.clearwisdom.net/html/articles/2010/8/25/119611.html.
Phone numbers:
Zhang Jun, assistant secretary of Xinhua District Political Legal Committee and assistant chief of Xinhua District 610 Office: 0311-87837066 (Work), 0311-83626688 (Home), 13603117478 (Cell)
Address of Xinhua District 610 Brainwashing Camp:
Guest Service Office, Yichuan Corporation Hotel (6411 Factory), 128 South Beilin Road, Shijiazhuang, Hebei.