Taiwan: The Governor of Shaanxi Province, China Sued for Persecuting Falun Gong (Photos)
(Clearwisdom.net) Upon his arrival in Taiwan on September 13, Zhao Zhengyong, the governor of Shaanxi Province, China, was sued by the Taiwanese Falun Gong Association for his role in the brutal persecution of Falun Gong in China. Falun Gong practitioners in Taiwan filed several lawsuits against Zhao. On September 16, when Zhao Zhengyong arrived in Chiayi, Falun Gong practitioner filed another lawsuit against him. A group of practitioners held a protest in front of the hotel where Zhao was staying. The protesters, forming a 600-foot long line, held banners exposing the persecution and announcing the lawsuits against the perpetrators.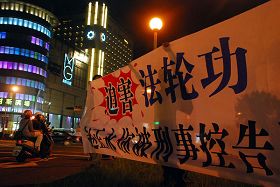 Practitioners' banner, which reads, "Zhao Zhengyong, you are being sued for persecuting Falun Gong"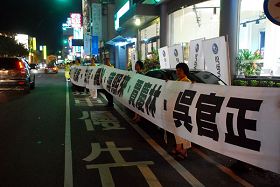 The protest banners outside the hotel where Zhao Zhengyong was staying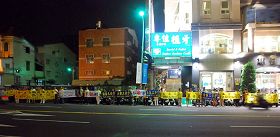 The 600-foot long line of banners
Zhao Zhengyong has been a political leader in Shaanxi Province for 10 years, where he has been directly involved in the persecution of Falun Gong. Huang Huahua, the governor of Guangdong Province has also been sued overseas for his role in the persecution. To date, Falun Gong practitioners throughout the world have filed 31 lawsuits against the perpetrators of the persecution in China.