Falun Gong Exercise Demonstration on the Most Flourishing Street in the World (Photos)
September 10, 2010 | By Lu Zhenyan
(Clearwisdom.net) New York City is often called "the capital of the world," and Manhattan is certainly home to people from every corner of the world. Times Square, then, is the very heart of Manhattan, where many famous businesses, world class theaters, financial corporations, press, and media entities have their headquarters. Innumerable large and small neon signs and flat screen TV advertisements are typical of Times Square. Besides the thousands of New Yorkers, thousands more tourists congregate here, making it one of the most flourishing places in the Western world.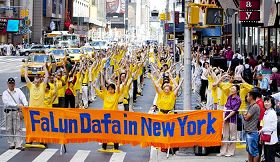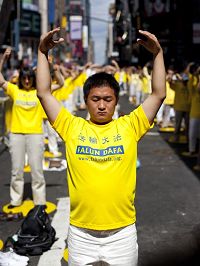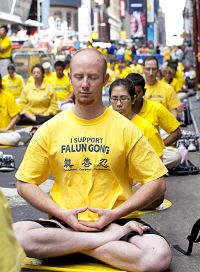 On September 4 2010, over 600 Falun Dafa practitioners demonstrated the Falun Gong exercises in Times Square, Manhattan, New York City, USA.
On the morning of September 4, 2010, Falun Dafa practitioners from all over the world converged on Times Square, along 7th Avenue between 39th and 42nd Streets, to demonstrate the Falun Gong exercises. Despite the noisy and clamorous location, the over 600 practitioners appeared peaceful and calm. The demonstration attracted many tourists and New Yorkers. Quite a few took photos and asked for more details. Some began to learn the movements that very morning.
Amir is a practitioner from New York. Between the exercises, he talked to the onlookers. He said that Falun Gong practitioners had come here to tell the world that they have benefited from the exercises and wanted others to learn the principles of the practice and also let people know that it is still being persecuted in China.
June came from Colorado. She talked about her own experiences with Falun Gong. She started training as a dancer when she was very young but she still felt very stiff. After practicing the Falun Gong exercises, she felt totally relaxed. She believed it was not just because of the movements but more from the internal changes since she began the practice. She said everyone has a heart to be good, so one should nurture this seed. She said Falun Gong teaches Truthfulness-Compassion-Forbearance, which encourages a person to be good and honest. She was very grateful.
Mrs. Richards and her husband were two passersby. She said they had visited China twice, in 2007 and 2009. Before they left, they had read stories about Falun Gong and also heard some of the Chinese propaganda defaming Falun Gong. When they were in China, everyone they talked to said the reality was not same as what the Chinese government described. Chinese people said that Falun Gong practitioners were good people but that the authorities were arresting them. This saddened her.
Ms. Mariana Blume, originally from Ukraine, is a dancing teacher from Brooklyn. She stood by and watched the exercise demonstration for nearly an hour. She said she felt very well, as if her soul was freed.
Ms. Mariana Blume, a dancing teacher from Brooklyn, is originally from Ukraine. She stood and watched the exercise demonstration for nearly an hour. She said she felt very content, as if her soul was free. She had not heard of Falun Gong before and didn't know the practice was being persecuted in Communist China. But since she was born in Ukraine, she said she understood what the Communist Party was. During the era of the Soviet Union, a lot of people were persecuted and killed in her country, too. She said, "Truthfulness-Compassion-Forbearance sounds like a teaching from God."