Taiwan: The Seventh College Students Falun Dafa Summer Camp Held in Taichung (Photos)
August 09, 2010 | By San Fang in Taiwan
(Clearwisdom.net) The Seventh College Students Falun Dafa Summer Camp was held at Chung-hsing University in Taichung City between July 29 and August 1, 2010. About one hundred students from all over Taiwan attended the summer camp. There they experienced the purity and wonderfulness of Falun Dafa's principles of Truthfulness-Compassion-Forbearance.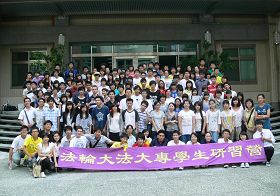 Group photo of the Seventh College Students Falun Dafa Summer Camp
Those that attended the summer camp remarked that they were very impressed by the selfless efforts of the staff. They were also very grateful for their own improvements brought about by studying Falun Dafa. After learning that so many young people were practicing Falun Dafa, they are happy to join these practitioners on the cultivation journey.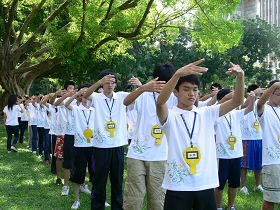 Campers participate in outdoor morning exercises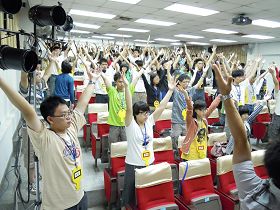 Students learning the five sets of exercises
This Falun Dafa summer camp is sponsored by the Falun Dafa Association of National Chung-hsing University. The theme of this year's camp was "A Golden Key." There were different activities during the four days and three nights of camp, including studying the teachings of Falun Dafa, doing the exercises, listening to lecturers, playing organized games, watching performances, seeing movies, etc. The students felt the inner meaning of Truthfulness-Compassion-Forbearance while participating in all the events and said they benefited from it tremendously.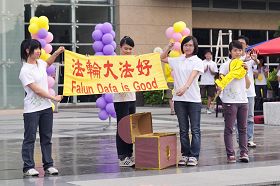 Performance of the skit "A Golden Key" during the camp concert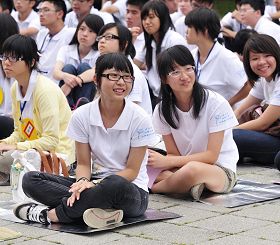 Campers enjoy the performance
Xu Jialin, contact person for the summer camp, said that the activities aim to introduce Falun Dafa to young people and let them know the inner meaning of cultivation. The camp staff works tirelessly to benefit the campers. "As Dafa practitioners, we all discipline ourselves according to high standards to help others and be considerate of their needs. We do this unconditionally."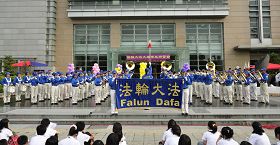 Performance by the Divine Land Marching Band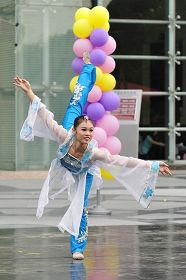 Dance by Xu Baoxuan: Heaven and Earth Welcome Spring
Tang Jitai is in his third year as a high school student. He thought that every staff member was compassionate and had a good heart. "When you look at them, you will find their eyes are clear. That gives you a good feeling." Through studying Falun Dafa, Mr. Tang's mind became peaceful. He said, "It makes you calm down, especially when watching the lecture videos or doing the exercises. Although we may come from a busy life with all sorts of sentimentality, being here is like coming to a peaceful lake and everything settles down."
Four guest, all Falun Dafa practitioners, were invited to speak to the young people during the camp session. The guests were Zhang Suxing, general manager of The Epoch Times, Southern Taiwan division; Zhou Yixiu, art teacher at Kian Kok Middle School; Wang Yuanfu, chief surgeon at Zhenxing Clinics; and Yang Suoying, Professor at the Department of Business Management, National Sun Yat-sen University. The speeches were very well received by the campers.
Ge Chengqian, a second-year high school student, was deeply moved by his own xinxing improvement. "In the beginning, the information looked new and I could not understand much when I watched the lecture video. After a while, I began to accept some of the contents and agree with them. With more activities over the past several days, I was definitely moved by it. Falun Dafa is indeed good."
Li Yiqi, a second-year student at the Affiliated Middle School of Tunghai University, attended the camp at the recommendation of her friends. She said she changed a lot during the past several days. She said that, in the past, she helped others only after receiving help from them. Now, her thoughts are different. Ms. Li said, "After this summer camp, I think I will be different from now on. I have learned a lot here--things that are very good. One should contribute more, without seeking reward or being attached to it. After all, Truthfulness-Compassion-Forbearance is something very important to us."
When the camp was over, there were many compliments on the feedback forms: "I used to be a little suspicious of Falun Dafa, but now I fully agree that it is good." "Thank you very much for your efforts. You fundamentally changed my attitude towards Falun Dafa. I believe this world will be a better one with you around." "Thank you all for the hard work. The activities would not have been so good without your help."
On the last day of camp, each camper was presented with a certificate. These young people have gained not only great memories but also a wonderful future.