Instructor at Shanghai Jiaotong University Sentenced to Four Year Prison Term (Photo)
August 03, 2010 | By a Clearwisdom correspondent in Shanghai City, China
(Clearwisdom.net) On the morning of July 6, 2010, the Shanghai Baoshan Court sentenced Mr. Guo Xiaojun, a Falun Gong practitioner and former instructor at Shanghai Jiaotong University, to four years in prison. Prior to the sentencing, Mr. Guo had been illegally detained for over six months. This is his second imprisonment, as he was imprisoned for five years in the infamous Tilanqiao Prison beginning in August 2000.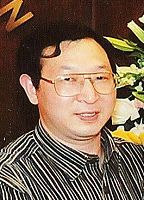 Guo Xiaojun, former instructor, Department of Computer Science, Shanghai Jiaotong University
Before the trial, presiding judge Xu Minfang forbade the defense lawyer to defend Falun Gong practitioners. The Beijing lawyer informed the court that prosecuting practitioners as criminals was a waste of state resources.
In court, Mr. Guo Xiaojun claimed his innocence. He also exposed the brutal interrogation he suffered at the hands of the Shanghai Baoshan Police Bureau and Baoshan Detention Center. Those who tortured Mr. Guo included Qui Fen, former Baoshan National Security Division head, and Baoshan National Security Division police officers Yang Yuefei and Chen Keyun.
At the beginning of the trial, prosecutor Chen Weidong from the Baoshan Procuratorate asserted that Mr. Guo Xiaojun was guilty as charged and that incriminating information was at hand. He produced as acceptable the only witness' transcript and rejected Mr. Guo's transcript. Whenever Mr. Guo tried to testify about the torture he suffered during interrogation, including the police threatening his wife and child, sleep deprivation and threats to use inhuman torture methods, the presiding judge Xu Minfang would interrupt him immediately. Xu also forbade Mr. Guo from talking about Falun Gong and deprived him of the right to defend himself, allowing him only to submit his written statement.
Mr. Guo Xiaojun had previously been detained at the Tilanqiao Prison for five years, beginning in August 2000. On January 7, 2010, police from the Baoshan Police Bureau arrested him and ransacked his home without a legitimate warrant. The warrant showed the wrong address. As Mr. Guo's family questioned the validity of the warrant, the police grabbed the paper and tore it into pieces. When ransacking Mr. Guo's home, police officer Yin Xiaoqiang demanded that Mr. Guo's family not publicize the ransacking on the Internet, threatening that otherwise the police would arrest them too.
Illegal Conduct of Baoshan District Court
Before the trial, presiding judge Xu Minfang told Mr. Guo's lawyer, "Don't give an opinion about Falun Gong. Otherwise, you will be forbidden to speak in court and you will face possible expulsion from court proceedings."
Contact information about those involved in the persecution of Mr. Guo:
Shanghai Baoshan District Court
Xu Minfang, judge: 86-21-56863544
Zheng Yina, judge: 86-21-56604808 ext. 3044
Shanghai Baoshan Procuratorate:
Chen Weidong, prosecutor, public prosecution division: 86-21-56691990 ext. 2305
Shanghai Baoshan Police Department's National Security Division:
Yang Yuefei and Chen Keyun, police officers: 86-21-56608111