Recalling the Large Group Activities Organized by Falun Gong Practitioners in Changchun City before the Persecution
August 29, 2010 | By a practitioner from Changchun City
(Clearwisdom.net) I started practicing Falun Gong in 1994. I participated in the large group exercise activities in Changchun. Today I would like to recall these events and record them as a witness to history.
The First Dafa Practitioners' Experience Sharing in Changchun City
On November 20, 1994, the first experience sharing conference for practitioners in Changchun City was held at Mingfang Palace, Jilin University. In the conference room, which could hold over a thousand people, all the seats were filled.
One retired military official said that he was retired due to his health. At that time, he had a terminal disease, and the doctor said that he would die. However, soon after he started practicing Falun Gong, his health returned. Now, he was very healthy with a ruddy complexion.
One elderly man talked about how he and his wife believed in Master and Dafa. They had encouraged each other and passed through their tribulations together. They stated Dafa was supernatural and miraculous.
One postgraduate student shared how she let go of her attachment of vanity as she practiced Falun Gong.
All participants benefited from this experience sharing and many were moved to tears. At the same time, they were determined to cultivate Dafa until consummation.
Two Visual Arts Exhibitions
From May 10 to 17 in 1995, the first Falun Dafa Painting Exhibition was held on the seventh floor at No. 70, Tongzhi Street, Changchun City. The practitioners' calligraphy, paintings and photos were so beautiful that participants did not want to leave. I was impressed with fellow practitioners' respect and acknowledgment of Master's mercy, their faith in Dafa, enlightenment through cultivation and desire to return to their true selves and consummation. All this was represented in their artwork.
From May 10 to 18 in 1997, the second Falun Dafa Painting Exhibition was held at the Nanling Sports Stadium in Changchun City. This time, there were over a thousand composition in the fields of calligraphy, painting, embroidery, wood carvings, handicrafts, tapestries and comic strips.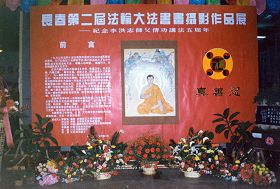 In May 1997, practitioners in Changchun City organized the second painting exhibition.
It had been planned that our displays would be in three exhibition halls. Later, the sports stadium added two more halls without charge. At that time, there was a misunderstanding and disagreement between our organizing people and the people from the stadium. During the process of solving the problem, our Dafa disciples showed their character as cultivators, being sincere, benevolent and thoughtful. The stadium personnel were very moved and impressed; indeed, they gave us two more halls for free. Two conflicts turned out to be two added halls, which was a good story about the art exhibition.
During the exhibition, there were two on-site Arts seminars with outside artists. The first time, we invited some famous people in the field of calligraphy to visit our exhibition. After they looked at our exhibition, they had high praise for Master and Dafa. The second meeting was mainly with fellow practitioners from the field of painting at the Department of Arts, Northeast Normal University. The two meetings were very successful and very friendly.
All preparations for our exhibition, all the on-site organization, logistics and security work were provided voluntarily by practitioners. During the exhibition, many practitioners assembled the shelves, cleaned the rooms, and decorated the hall. They were busy working very hard till midnight. Some senior practitioners who lived nearby voluntarily prepared lunch boxes for staff. They prepared food for hundreds of people at home and then delivered it to the exhibition area. It was not easy.
Because of our practitioners' coordination and hard work, the painting exhibition was very successful. Over 20,000 people visited and admired our artwork. This exhibition helped spread Dafa and let more people know many things about Dafa.
Two Big Group Exercises
In May 1998, Wu Shaozu, Director General of the Chinese General Administration of Sports, came to Changchun City to investigate how citizens in Changchun City had improved their health. The related organization contacted the Falun Dafa assistant center. Our center organized the morning group exercise for 10,000 people in the Culture Plaza of Changchun City.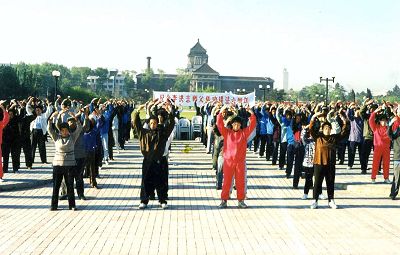 In May 1998, practitioners in Changchun City held a group exercise.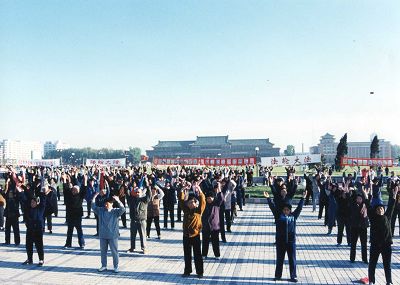 In May 1998, practitioners in Changchun City held a group exercise.
Mr. Wu was very pleased with the huge number of people participating in an exercise which had such peaceful, gentle and graceful movements. Throughout the whole process he kept smiling. Some practitioners also shared their experiences of health improvement after practicing Falun Gong. Mr. Wu nodded his head and praised Falun Dafa's great role in the whole nation's health improvement campaign.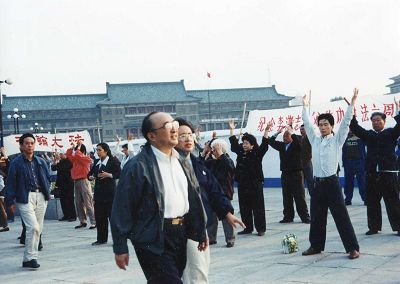 Mr. Wu Shaozu watching Falun Gong practitioners doing group exercises.
On January 17, 1999, in a gesture to welcome the Nine Winter Sports Competition, related organizations requested Falun Gong practitioners to hold a group exercise at the Nanling Sport Stadium in Changchun City.
At that time, the temperature dipped ten degrees below zero, and it was very windy. Practitioners were not stopped by the cold and gathered at the stadium. A few thousand practitioners (because of the limitation of the space, only practitioners living nearby came) gathered in an efficient and orderly manner and performed the group exercise.