Older Man Falsely Accused in Court Has Heart Attack and Was Rescued (Photo)
August 28, 2010 | By a Clearwisdom correspondent from Heilongjiang Province
(Clearwisdom.net) Mr. Wang Zhen, 69, is a retiree from the Storage Timber Processing Plant in Huanan Sengong Forestry, Heilongjiang Province. On July 18, 2010, he was telling someone about Falun Gong, and was reported by Zhu Jing, an officer from the Lishu Police Station in Huanan County. Zhu Jing and another officer seized him and sent him to Hunan County Public Security Bureau. Wang Zhen was illegally detained in Hunan Detention Center.
The Hunan Court secretly tried him on the morning of August 18, without notifying his family, and judged him to be guilty. He was then told hypocritically that he would be lightly sentenced, and asked to go back and wait for the results.
The next morning, August 19, Wang Zhen suddenly had a heart attack, and was sent to Huanan County People's Hospital where the hospital staff saved his life. Wang Zhen is still in the hospital.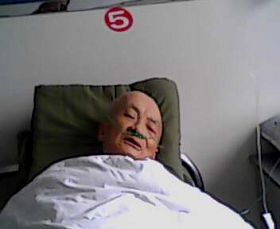 Wang Zhen with oxygen and liquid infusion
Wang Zhen had been healthy after he practiced Falun Gong. His health has now deteriorated, which is entirely due to the detention and persecution.
Responsible people:
Sun Qingcai, judge: 86-13091623677 (Cell)
Che Chuanpeng, 610 Office head: 86-13845425557 (Cell)
Mang Pingfei, director of Public Security Bureau: 86-13303683333 (Cell)
Sun Yongjie, superintendent of detention center: 86-13352548585 (Cell)