Waterloo, Canada: Divine Land Marching Band Participates in Canadian Naval Centennial (Photos)
(Clearwisdom.net) On August 21, a marching band and drum and bugle corps show was held in Waterloo, Canada to pay tribute to the Canadian Navy on its 100th Anniversary. The Divine Land Marching Band, consisting of Falun Gong practitioners from the Toronto area, took part in the show.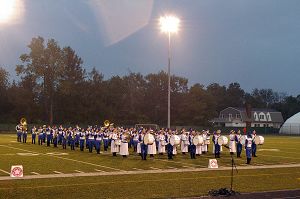 Although it rained hard, many people enjoyed the show. The host introduced the Divine Land Marching Band to the spectators: "Most members are Chinese. They all practice Falun Dafa, which is an ancient cultivation practice in China. The members are from all walks of life. The band represents the multi-culture that Canadians are proud of." The host further said: "The band has become one of the biggest in Canada and warmly welcomed in all kinds of parade and events."
One of the organizers of the event praised the band. He said that he had seen the performance of the Divine Land Marching Band several times. The last time, he saw the band in the Etobicoke Parade and met the contact person of the band. He liked the performance, so he invited them.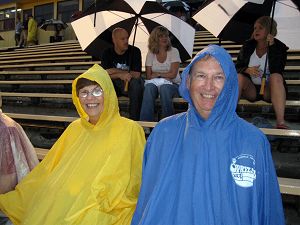 Mr. Wilkinson and his wife Lois are from London, Ontario. They liked the band very much. Mr. Wilkinson said they were full of energy and their performance was encouraging. "Although it was raining, I was excited," he said.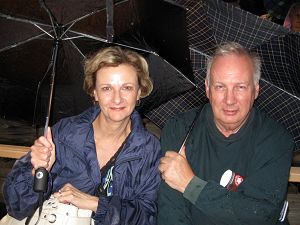 Linda and Pat from Cambridge, Ontario said they enjoyed every minute of the performance.
Mr. Yin from Xi'an, China said: "I've heard about this band, so today I came to see them. I am very moved. It was raining so hard, but it didn't interfere with the band. Their performance was excellent. I was truly touched."
Mr. Chu joined the band two months ago. He said: "I first saw the band at a parade in Waterloo two years ago. I was moved to tears. This year, I moved to Toronto and joined the band. I felt deeply honored to perform today."