French Falun Gong Practitioner: "I Will Not Forget My Friends in China (Photo)
August 24, 2010 | By a Clearwisdom correspondent Huaqing in Sydney
See also the following related article: Changchun Falun Gong Practitioners: "Thomas, We Miss You!" (Photo) (http://clearwisdom.net/html/articles/2010/8/12/119208.html)
(Clearwisdom.net) French Falun Gong practitioner Thomas Dobson, who currently resides in Sydney, has been practicing Falun Gong for a dozen years. He talked with us recently about how he met practitioners in Changchun, Jilin Province, in China before the persecution started and he was only 22 years old.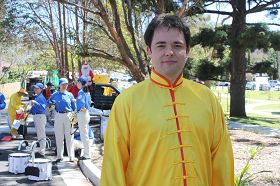 French Falun Gong practitioner Thomas Dobson currently resides in Sydney.
The Chinese Embassy in France Spared No Effort in Promoting Falun Gong
Thomas first started practicing Falun Gong when he lived in Paris in 1996. He was a 19-year-old student and went to a park to do the exercises in the morning with his mother. "My mother learned Falun Gong when Mr. Li Hongzhi came to lecture in Paris in 1995. She was probably one of the first western practitioners in Europe. At the time, the practice was officially promoted by the Chinese Embassy. Many people in France began to learn Falun Dafa because of the Embassy's active effort. My mother has been practicing since the 90s and so has my stepfather. Most of my family members are practitioners," said Thomas.
Truth-Compassion-Forbearance Draws Thomas' Attention
Thomas remembers that it was the principle of Truth-Compassion-Forbearance that attracted him to the practice. Before he began to practice, he was a student living a typical life of parties, fun and not much money. "One of the reasons I began to learn Falun Gong was that I did not have to pay or register. There wasn't any form of management. It was very free. This form really attracted many French people's attention because people in France highly stress their personal freedom." Thomas said that he did not practice Falun Gong for health reasons. "I thought I was quite healthy, although I was smoking 40 cigarettes a day. I had not been really sick." Thomas liked the practice because of the principle of Truth-Compassion-Forbearance, the simple yet high-level teaching and loose management. "The teaching is good and the practitioners are all nice people. I knew a family in which everyone from grandma to grandchild practiced Falun Gong. I believed that the practice must be good."
Going to China to Learn Chinese So He Can Read the Book Zhuan Falun
The book of Falun Dafa's central teaching, Zhuan Falun, had not been translated yet when Thomas started the practice. For a year, he only knew the exercises and how to follow the principle in his daily life by sharing with Chinese practitioners. "In September 1996, when I first got the English version of Zhuan Falun, I finished reading it as fast as I could." I decided to go to Asia to learn Chinese because there are so many Falun Gong books, articles and lectures and they were all in Chinese."
Thomas went to Changchun in January 1999. The temperature was 14 degrees Fahrenheit. "I was very fortunate and everything went well, including my trip and the job I found. I did not plan at all. Things just happened like they were prearranged. I learned Chinese at Northeast Normal University and taught English in its affiliated private school. I was the only westerner there, and hence my Chinese improved quickly. I practiced Falun Dafa at Jilin University every morning. When I studied Chinese Zhuan Falun with the practitioners there, I got to read the Chinese characters one by one as they read, and understand the meaning. I had a wonderful time there."
According to Thomas, back then in Changchun, there was at least one Falun Gong practitioner in every household. He couldn't walk more than ten minutes without coming across another exercise site. At the practice site closest to where he lived, there were about 200 practitioners doing the exercises every morning at 5 a.m. Then, there were another 2,000 at 7 a.m. There were Fa-study groups everywhere. "It was unbelievable. The entire city was following the principle of Truth-Compassion-Forbearance. Everyone looked within for their shortcomings. The environment helped tremendously for my personal cultivation. What I had been looking for in the past, so many people were practicing it in the city!"
Leaving Before the Persecution Begins
Thomas left a month before the Chinese Communist Party launched the persecution of Falun Gong. It has been more than ten years, and he still cannot go back to China.
He has lost touch with many friends. Many of them have suffered persecution. One of his friends was forced to have an abortion when she was eight months pregnant with her first child. "From then on, I have been doing whatever I can to make people understand that such a brutal persecution is still happening in China. It has not been easy. It's been ten years and people are starting to understand why we protest. It's not about politics, but human rights. No matter how people look at the persecution, it's been going on for too long." Thomas mentioned that he met people of different races and from all walks of life while practicing Falun Gong in China. "I believe that Falun Gong can bring more people together than the Chinese Communist Party ever could."
In the end, Thomas said with tears in his eyes, "I want my friends in China to know that I am still practicing now, and I will not forget them."