Toronto, Canada: Rally Calls for an End to the Persecution of Falun Gong (Photos)
(Clearwisdom.net) On July 31, 2010, the Falun Dafa Association of Canada, assisted by One Free World International, organized a parade and rally in downtown Toronto to call for an end to the persecution of Falun Gong in China.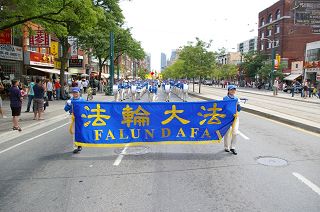 The Falun Gong procession marches through Chinatown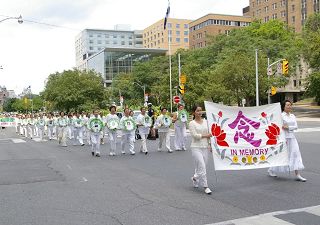 In memory of Chinese practitioners who have been persecuted to death in China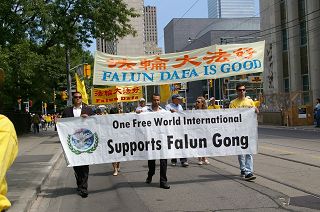 One Free World International members support Falun Gong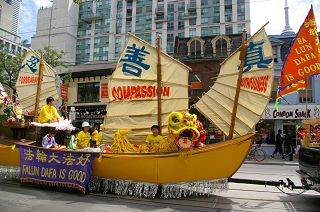 Practitioners' Fa boat float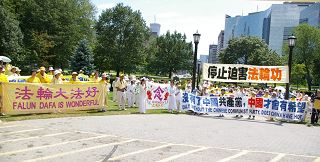 The rally site
The rally was held in front of Ontario's Provincial Parliament Building. Zhaojin Zhang, a representative of the Falun Dafa Association of Canada, explained the reason for the rally. "We are here to call for actions to end the 11-year persecution of Falun Gong in China. The persecution was based on sheer lies and propaganda ... To expose the Chinese Communist Party's lies against Falun Gong and let people know the truth, practitioners in China have endured unbearable hardship for 11 years. They have been subjected to all kinds of torture--even live organ harvesting. To date, over 3,000 practitioners have died."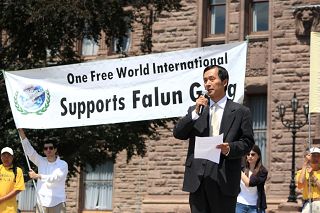 Zhaojin Zhang, a representative of the Falun Dafa Association of Canada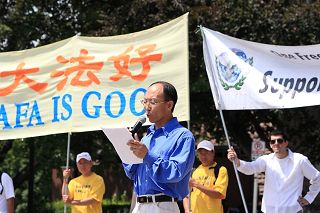 Lizhi He, former senior engineer with the Ministry of Housing and Urban-Rural Development
Mr. Lizhi He was a senior engineer with the Ministry of Housing and Urban-Rural Development in China and was the recipient of several national awards. He spoke at the rally. "Because I tried to tell people the truth about Falun Gong, I was sentenced to three and a half years of forced labor. In the labor camp, I was repeatedly shocked with electric batons, deprived of sleep, stripped naked and sprayed with cold water in water... The torture almost killed me... My cousin, Lixun He, and my brother, Lizhong He, were arrested this past February, and we didn't know where they were for a long time. Two weeks ago, the Chinese Communist regime put them on trial. Based on my personal experience, I am very concerned for their safety."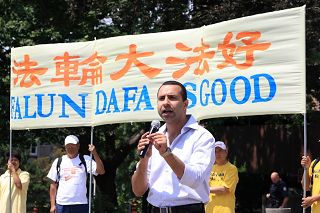 Majed El Shafie, president of One Free World International
Majed El Shafie, president of One Free World International, said that the persecution of Falun Gong is a human rights issue. "I am a Christian. In China, what Falun Gong practitioners have been subjected to can also happen to Tibetans and Uygurs. No matter how intimidating the evil is, people who seek freedom will prevail. Please remember: They can kill people who dream, but they can not kill dreams."

Human Rights lawyer Chantal Desloges
In her remarks, human rights lawyer Chantal Desloges said: "We support the rights of all religious groups in China. We also remind Canada and the whole world that the Chinese authorities are suppressing my Chinese people, including Falun Gong practitioners and Christians."
She said that governments and companies that fail to condemn the persecution are also responsible, because they choose to remain silent despite human rights atrocities in order to maintain business relations with China. "I want to say that money is no compensation for the abuse and loss of lives ... We will remind people everyday that the Chinese Communist regime is violating human rights."

Clement Rodrigo, Toronto South Asian community leader
Clement Rodrigo, leader of the Toronto South Asian community, commented that the unyielding spirit of Falun Gong practitioners is remarkable. "Eleven years have passed, yet Falun Gong practitioners [in China] are still very steadfast. They are heros. So are practitioners outside China. I have seen them distributing fliers year after year. For your belief, you have given up a personal life and money. I am very touched. You demonstrate that you are the most resilient people."
Immigrant Mr. Liao originally came from Guangdong. He saw the parade and said: "I heard about Falun Gong in 1998. After I came to Canada, I learned the truth about the persecution from the Epoch Times newspaper. 11 years is too long... I will study Falun Gong literature."
During the march through Chinatown, Efily from Philippines said: "This group is being persecuted in China and they are using a good way to raise awareness. People should work together to end the persecution."
Peter from Italy raised his thumb toward the parade procession. He told the reporter: "They are doing a great job. Their parade will let government and civilians know about the ongoing persecution and thus take actions to end it. They are so peaceful... the human rights atrocities in China must be ended immediately."
Blurm is an store owner in Chinatown, and he has seen the Falun Gong parade every year. He said: "They impress me very much. 11 years is too long. I understand. I think that we should do something for them."
John Weiss, a professor of history at Cornell University in the US, drove from Rochester to Toronto to attend Saturday's rally and parade.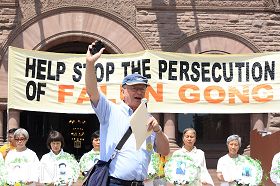 John Weiss, professor of history at Cornell University
Weiss said in his speech that he was inspired by the "Independent Investigation into Allegations of Organ Harvesting of Falun Gong Practitioners in China," written by David Matas, Esq. and Hon. David Kilgour, Esq. He held that we should use all effective ways to widely spread the truth about the ongoing persecution in China.
He also mentioned that his wife was waiting for a kidney transplant. After learning that organs were being harvested from living Falun Gong practitioners in China however, she rejected going to China for her transplant. Moreover, she also asked Weiss to express her support for Falun Gong at today's rally.