Houston, Texas: Shen Yun a "Very Important Performance" (Photos)
(Clearwisdom.net) Shen Yun Performing Arts was greeted with enthusiastic applause and a standing ovation for three shows held at the Brown Theater at the Wortham Center, in Houston, Texas, on July 2-3, 2010.
President of The Vero Group: "It Was a Very Exciting Performance"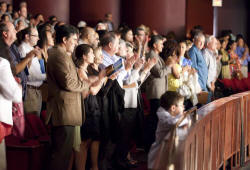 A standing ovation for Shen Yun on Friday evening at the Brown Theater, in Houston.
From the very first dance set, Sir Mark Haukohl, President of The Vero Group, realized that Shen Yun was a "very important performance."
"It really reflected the cultural values of China, historical China, and more the China evolving today," he said.
"I was particularly impressed by the historic proverbs and history points that were reflected in the dance this evening. It's a beautiful combination of both ballet and modern dance, as well as traditional dance, so it involved a great many performance motifs. It was a very exciting performance--the first one I've ever seen, and I would be delighted to come again," he said.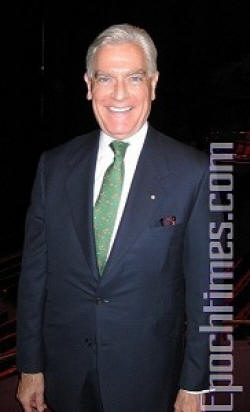 Sir Mark Fehrs Haukohl is president of the family office, The Vero Group.
"I think the music, of course, is wonderfully traditional. The orchestra is particularly good, there's so many pieces in the orchestra, and the costumes are very flamboyant and very, very colorful," Sir Mark enthused. "It was a magnificent performance, and I would very much like to see it again. I will try to come tomorrow, that would be wonderful."
Referring to the Shen Yun performers, he said, "It's wonderful to have you all in Houston. I'd like to thank you all for this opportunity, for your coming here. It's a wonderful introduction to the Southwest and our Asian community here in Texas."

Investors: Shen Yun "very beautiful"
Mike Rubnar and his wife, Polly, both financial investors, thoroughly enjoyed the show.
"It's very beautiful, all of the fabrics are gorgeous, the silks and chiffons are just beautiful," said Mrs. Runar.
Her husband agreed. "I think the pageantry and everything tells a story, some of them very enjoyable, some of them show more about what's going on in China today.
"I like the tiger [in the dance, Wu Song Battles the Tiger], which they killed; everything was perfect. So far we have really enjoyed it. We are glad we came."
Mrs. Rubnar added, "Really pretty, we are really glad we came."
Mrs. Rubnar said she had read about China "and things [the country] is going through."
"This performance shows the beauty of China that you don't always see, the pageantry, the color, the lifestyle in the smaller villages, and how they live and so forth, which we don't really know about."
Her husband enjoyed the emotional spectrum of the dance sets, from happy: Wu Song Battles the Tiger to sad: Nothing Can Block the Divine Path and Astounding Conviction, which expose the persecution of Falun Gong in contemporary China.
Mrs. Rubnar concluded, "I also enjoy getting to see every aspect of China, which I think is good."
Former Dancer: "It's Really Beautiful!"
Former dancer, Debbie Penney, and her friend, Linda Johnson, were awe-struck by the dance sets.
"The dancers were really great," said Ms. Penney.
She talked about the difficulty involved in the different jumps and twirls that the dancers performed and praised the dazzling costumes in the show. "It's really beautiful," she said.
Ms. Johnson was entranced by the ever-present grace and beauty in the show, and found the live orchestra very enjoyable.

"I think it's very entertaining, and it seems to be very elaborate," Ms. Johnson said.
"This Really Exceeded My Expectations"
Also attending the show were Jean Lucia, a retired piano and organ player, and Julie Nise, a therapist.
Referring to the live orchestra, Ms. Lucia said, "... it was fitting, it was very fitting for what they were doing."
"Very fluid. It blended nicely for what they were doing." She said that every aspect of the show was done "very, very well."
Ms. Nise also shared her impressions of the show, saying that it was "absolutely stunning" and that the colors were "absolutely breathtaking!"
"This really exceeded my expectations. I mean, I knew it was going to be beautiful, but it was really way more than that. ... it was magnificent," she said.
She marveled at the precision of the choreography and said that the digital backdrops were a really unique feature of the show, making it easy for the audience to better understand the stories, which helped bring the performances to life.
"It was just incredible!" she concluded.
Dancer: Shen Yun Precision Perfect
Hannah Jones, a dancer, said that the show "was amazing!"
"The precision involved, everything was absolutely perfect, like the timing. I thought it was really, really good," she said.
Ms. Jones added, "I really liked that they had a live orchestra instead of a recording. I thought that was a fun and interesting thing."
Trained in contemporary and modern dance, she noticed that the Shen Yun dancers were "a lot more flexible ... a lot more athletic. It's just ... more fun to watch."
Ms. Jones also enjoyed the state-of-the-art digital backdrop that portrays traditional scenes and landscapes.
"I really liked how the backdrop changed and matched all the different characters. I think it added a whole other element to the production."
Reflecting on the performances depicting both ancient stories and legends from the past and modern tales, Ms. Jones said that they were done really well.
"I really like them ... it was all very believable," she said.
Sources:
http://theepochtimes.com/n2/content/view/38493/
http://theepochtimes.com/n2/content/view/38486/
http://theepochtimes.com/n2/content/view/38475/
http://theepochtimes.com/n2/content/view/38474/