France: Judge Orders Investigation of European Satellite Company for Shutting Down NTDTV's Broadcasts to China
(Clearwisdom.net) After the European satellite company Eutelsat shut down New Tang Dynasty Television's (NTDTV)'s broadcasts to China via its W5 satellite on June 16, 2008, explaining that it was due to technical difficulties, NTDTV filed a lawsuit against Eutelsat in July 2008.
On June 30, 2010, the Cour D'Appel De Paris, made a decision that an expert will be assigned to investigate the real reason that Eutelsat cut off NTDTV's broadcasts to China.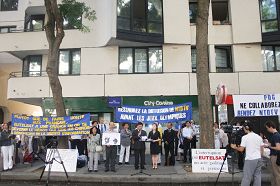 The press conference in front of Eutelstat
Reporters without Borders investigated this incident in 2008, and announced that Eutelsat did not cut off the signal due to technical difficulties, but rather, due to pressure from the Chinese government.
Vincent Brossel from Reporters without Border speaking at a press conference in August 2008.
In the last two years, NTDTV has been collecting evidence and requesting the court to conduct investigations. On June 30, a judge considered NTDTV's evidence, which indicates that the real reasons for terminating the broadcasts were political. The judge pointed out that although NTDTV has not yet proved its claim, this is not the point, because NTDTV's goal from the beginning has been to have this incident investigated.
The court reversed the decision made by a Paris Commerce Court on November 17, 2009, which had rejected NTDTV's request for an investigation. The court will now assign an expert to investigate the incident.