Mr. Xie Wutang Persecuted in Wuling Prison and Released Only After Being in Critical Condition
July 04, 2010 | By a Clearwisdom correspondent from Hunan Province
(Clearwisdom.net) Mr. Xie Wutang is a Falun Gong practitioner in his 70s living in Changsha City of Hunan Province. He was detained and tortured in Wuling Prison. During this time Mr. Xie was unable to practice the Falun Gong exercises, and his health deteriorated considerably. Despite this, prison officials did not release Mr. Xie until he was in critical condition. Once he was released, he was diagnosed with prostate cancer. The cancer spread throughout his body and doctors said it was too late for surgery.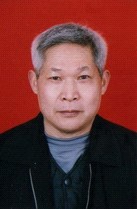 Mr. Xie Wutang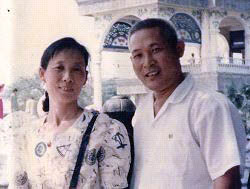 Mr. Xie and his wife Ms. Tan Yuxiang
On July 14, 2007, Mr. Xie Wutang, in his late 60s at the time, was illegally arrested by policeman Fu Shengwen and his accomplice from the State Security Division of Tianxin District. Later, he was sentenced to a four-year-and-eight-month prison term by Tianxin District Court. Mr. Xie was detained and cruelly tortured in facilities one after another: first in the Changsha City Detention Center, then in the No. 2 Detention and Transfer Center of Changdejin City, and finally he was transferred to Wuling Prison in Changde City.
While in the Changsha City Detention Center, he passed out twice due to the severe torture and had to be treated with emergency revival procedures. (Information about the persecution endured by Mr. Xie can be read here and in other articles on Clearwisdom.) Mr. Xie's health quickly deteriorated, but the prison did not release him, nor did they allow him to receive treatment.
On January 29, 2010, when visited by family members, Mr. Xie was walking with the help of a walking stick and two helpers, one on each side. He told his wife that he had been having difficulty walking and urinating for several months. In fact, Mr. Xie had been using a walking stick for over a year.
On February 24, 2010, Mr. Xie was in critical condition and sent from Wuling Prison to the No. 5 Changde City Hospital for emergency treatment. The hospital issued a Notice of Terminal Illness to his family. The prison also phoned one of Mr. Xie's family members. The following day, Mr. Xie's wife rushed to the hospital. The doctor informed her of her husband's condition: hypertension at a very dangerous level, heart disease caused by the hypertension, enlargement of the heart, potential heart failure, gastrointestinal diseases caused by the hypertension, chronic kidney dysfunction (uremia, pulmonary edema and pleural effusion in the kidney), and urinary tract stones. Mr. Xie's family saw that his whole body looked bloated. In addition, he was hooked up to oxygen tubes, a heart monitor, IVs in both arms, and a drainage bag, and devices were attached to his feet. Even though he was unable to move at all, his foot was still cuffed to the bed at night by the police.
On March 1, 2010, Mr. Xie was brought to the No. 1 Xiangyafu Hospital of Changsha City, with two policemen monitoring him. There he was diagnosed with prostate cancer. Later the cancer spread to his bones, and the doctor said surgery would no longer help. He remains in critical condition.