Sydney: Tianti Books Holds Nine-day Falun Gong Lecture Seminar (Photos)
July 03, 2010 | By a Falun Gong practitioner in Sydney
(Clearwisdom.net) The first Tianti Books in Australia had its grand opening in Dymocks (an Australian bookseller) on March 6, 2010. The bookstore held its first Nine-day Falun Gong Lecture Seminar on June 22-30. More than ten people attended the series.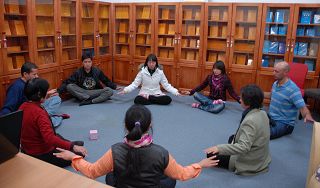 Learning the meditation during the first Nine-day Falun Gong Lecture Seminar by Tianti Books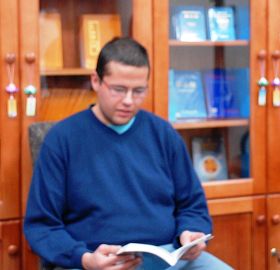 Anthony benefited greatly from the class
Anthony, a young man who works for a bank, wrote in his experience-sharing that he had learned the basic philosophy and exercise movements of the practice during the nine-day class. After the first few days of watching the lectures and learning the exercises, he felt full of energy and clear in his mind. He used to smoke cigarettes, but he quit easily after practicing Falun Gong for only a few days. He recommended the nine-day class to anyone who wants to pursue truth, understand the world, reduce troubles in life, or recuperate from diseases. He treasures everything he learned from the nine-day class and plans to practice Master Li Hongzhi's teachings for the rest of his life. He said, "If you have a chance to join the nine-day class, I believe you will make the same decision." Anthony couldn't believe the pain was gone in his left shoulder, which had been injured, after listening to the first lecture and learning the first two exercises. He tried to feel the pain, but it was indeed gone. He said that Falun Gong was miraculous!
An Australian artist wrote in her sharing, "I had been doing other qigong exercises for twenty years before attending the nine-day class. During the nine days, I felt the strong energy of Falun Gong and the space I'm in. I think this cultivation practice is great! I will come to join the exercises whenever I can."
Li Na, a student from China, wrote in her sharing, "When I started watching Master Li's lectures in Guangzhou, especially when Master stressed the cultivation of heart nature, I knew clearly that Falun Gong isn't like what the Chinese Communist Party claimed in its slander. It is Buddha Law that improves morality and self-cultivation. As Master Li said, it is not only exercise, but also cultivation, cultivation of heart. It is called heart nature cultivation. This is very important, because it is only when you cultivate your heart, that your energy will grow and your level will rise. You must follow Truthfulness-Compassion-Forbearance as criteria for your behavior in order to improve your heart nature."
A Falun Gong practitioner who had recently come to Australia from China attended the class. He said, "I've been in Australia for four months. I am very fortunate to be able to attend the nine-day class in Australia. The Chinese Communist Party (CCP) launched its persecution of Falun Gong in 1999. My sister was imprisoned and cruelly tortured for two months for distributing brochures. My father started practicing Falun Gong in 2000 and died due to persecution in 2004. I started practicing Falun Gong in March 2005. I was afraid the CCP would find out about it, so I have been practicing secretly at home, and don't attend any group study. I treasure this opportunity to attend the nine-day class at Tianti Books. I will follow Truthfulness-Compassion-Forbearance and always improve my heart nature."
Contact information of Tianti Bookstore:
Phone: 02 8084 8289
Website: www.TiantiBooks.org