Washington, DC: Candlelight Vigil at Washington Monument Commemorates Falun Gong Practitioners Killed in the Persecution (Photos)
(Clearwisdom.net) On the evening of July 22, 2010, more than a thousand Falun Gong practitioners from around the world participated in a candlelight vigil in front of the Washington Monument to commemorate practitioners in mainland China who have died as a result of the persecution.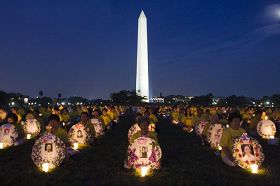 Candlelight vigil in front of the Washington Monument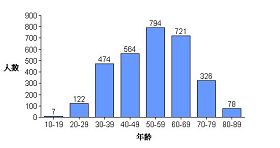 Age distribution of practitioners who have died as a result of the persecution
The above chart only includes only deaths where the practitioners' age was known. There are another 296 cases where ages at death are unknown.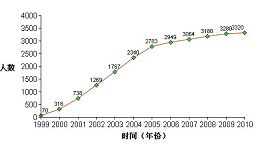 The number of deaths increases year by year (1999-2010)
The above chart only includes data from death cases in which the year of death is known. There are another 77 deaths where the year of death is unknown.
Death due to persecution has been verified for 3,397 Falun Gong practitioners in China. The death cases are distributed in more than 30 provinces, autonomous regions and municipalities. According to information published on the Minghui website, (Chinese version of Clearwisdom.net) as of July 22, 2010, regions with high incidences of deaths are Heilongjiang Province, Hebei Province, Jilin Province, Shandong Province, Sichuan Province and Hubei Province.
Among the practitioners who have been killed in the persecution, women account for about 54%, and those whose ages were above 50 account for 57%. Numerous Falun Gong practitioners have been killed and disabled, and their families torn apart. They have become homeless and forced to move from place to place. Millions of practitioners' family members, relatives, friends and colleagues have been implicated and brainwashed to different extents under the Chinese Communist regime's state terrorism.
According to Lisa Fan, coordinator of the candlelight vigil in Washington, DC, "Since July 20, 1999, the Chinese Communist regime has mobilized all state machinery to carry out a systematic and comprehensive brutal persecution campaign against Falun Gong practitioners. However, eleven years have passed, and Falun Gong has not been eradicated. Instead, even more people have seen through the CCP's lies as a result of Falun Gong practitioners' tireless truth clarification efforts. Falun Gong practitioners hold a candlelight vigil every year, which shows perseverance, and also helps more Chinese people who have been deceived as well as people from around the world, learn the facts, experience the goodness of Falun Gong, and Falun Gong practitioners' peacefulness and rationality. At the same time, they can clearly see the CCP's evil nature."
Background
Falun Gong, also known as Falun Dafa, is a traditional Chinese spiritual discipline for mind and body. The practice involves slow, gentle movements and meditation. It is easy to learn, enjoyable to practice, and free of charge. Its principles are based on Truthfulness-Compassion-Forbearance. The practice began in China in 1992 and quickly spread by word of mouth throughout China and then beyond. Its beneficial effects in uplifting an individual's physical, mental, and spiritual health, not to mention its positive influence in the community and society as a whole, have been undeniable. In fact, Falun Gong has been practiced by over 100 million people in over 100 countries. The main works of Falun Gong are available in over 30 languages.
On July 20, 1999, the Chinese Communist Party (CCP) launched a brutal persecution of Falun Gong. Since the start of the persecution, Falun Gong practitioners throughout the world have been constantly speaking out about the truth of Falun Gong and exposing the CCP's crimes in a tireless effort to end the persecution.