Sisters-in-law Illegally Tried after Exposing How They Were Tortured (Photo)
July 24, 2010 | By a Clearwisdom correspondent from Hebei Province, China
(Clearwisdom.net) At 8:30 a.m. on June 23, 2010, Ms. Shang Shiying and Ms. Shan Huanrong were tried at the North Tangshan Road Hebei Province Court. The court allowed only two family members to attend the trial. During the proceedings, Ms. Shang Shiying said that she was only guilty of believing in Truthfulness-Compassion-Forbearance and told how, when she was illegally interrogated by the Fengnan Public Security Bureau and Fengnan Detention Center guards, they forced to sit on an iron chair in handcuffs and shackles for extended periods. Zhang Baocai, the detention center director, also participated in torturing her.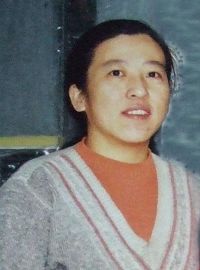 Shang Shiying
Ms. Shang Shiying and Ms. Shan Huanrong are sisters-in-law. After their illegal arrests on January 14, 2010, their family knew they were being tortured in the Fengnan District Police Department and Detention Center. The family went to the police department and detention center on several occasions, met with the Procuratorate, and filed a lawsuit. The lawsuit demanded that the authorities responsible for torturing Ms. Shang and Ms. Shan be punished. The officials included Li Lianguang, deputy head of the National Security Team at Fengnan District Public Security Bureau; Zhang Baocai, director of the detention center; and police officers Fang Shuyun and Yao Yankuo. The family requested the immediate release of their loved ones. Fengnan police station, detention center, and Procuratorate officials shifted responsibility for these women back and forth and refused to meet with the family.
The family approached Judge Zha and the prosecutor at the Procuratorate repeatedly, informing them that their loved ones didn't commit crimes and asking them to handle the case impartially. However, the Lubei Court and Procuratorate replied that they could not make a decision by themselves.
1. Arrested and Home Ransacked
On the afternoon of January 14, 2010, Falun Gong practitioners Ms. Shan Huanrong, Ms. Shang Shiying, and Ms. Li Chunxiang were arrested in Fengnan just as they were leaving home. The police officers did not identify themselves. At noon on January 15, 2010, Shan Huanrong's mother and second brother went to visit her, but as soon as they entered the house, the police officers hiding nearby broke into the house. The police confiscated the computer, printer, and Falun Gong books. That afternoon, police officials called Shang Shiying's husband to come home from work, forcing him to open the door. The officers ransacked the home and confiscated a CD recorder and other personal items.
The police involved in the ransacking included: Li Lianguang from Fengnan District Police Department and Li Yingxiang and Dong Zhisheng from Diaoyutai Police Station of Lubei Police Department. Apparently, the Tangshan City Public Security Bureau Sixth Brigade was also involved in the ransacking. The raid was overseen by police officer Zhang. Additionally, street office personnel at Shang Shiying's residence also participated in the ransacking. Several days later, the local police station sent officers to request the list of confiscated items from Ms. Shang's family in order to destroy the evidence.
2. Interrogation and Torture
Ms. Shang, Ms. Shan, and Ms. Li were interrogated at the Fengnan District Public Security Bureau. They were forced to sit on iron chairs for 24 hours and were not allowed to close their eyes or use the bathroom. Ms. Shang did not eat or drink for a day, and because she refused to have her picture taken, National Security Team head Yao pulled her hair violently, injuring Ms. Shang's neck. As a result, she experienced numbness in her right thumb, dizziness, increased blood pressure, and neck and shoulder pain.
On the evening of January 15, 2010, the three practitioners were taken to the Fengnan Detention Center. Upon entering the gate, National Security Team head Li (who participated in the arrest) told detention center director Zhang Baocai that they were the ones who called him and sent the message.
Zhang rushed at them in anger and violently kicked them. He kicked Ms. Li's breast, causing her extreme pain. Zhang slapped Ms. Shang's face, which became swollen immediately. Zhang continued to kick Ms. Shang until he was stopped by an officer with a sense of justice. The officer's left eye and face were accidentally injured in the process.
Later, the three women were handcuffed and shackled. Ms. Shang felt dizzy, her heart was palpitating, her fingers were numb, and she could not get up. Her blood pressure was 170/100, and she asked that the handcuffs and shackles be removed but was ignored. Director Zhang Baocai, instructor Qiao Jinyou, and guard Fang Shuyun viciously cursed at her.
Fourteen days later, Ms. Shang Shiying's wrists were worn and scarred, and her socks were torn by the shackles.
On the afternoon of February 3, 2010, guards Fang Shuyun and Yao Yangquo broke into the seventh cell with rubber batons in hand. Fang Shuyun carried a persuasive letter from a Falun Gong practitioner entitled "A Letter to Persons with a Predestined Relationship" and began to slander Falun Gong. They grabbed the practitioners by their hair and pushed them down. Yao Yangkuo hit the backside of one practitioner three times extremely.
3. Family Not Allowed to Visit
After Ms. Shan Huanrong and Ms. Shang Shiying were detained, their family was deceived by deputy team head Li Lianguang of the Fengnan District Police Department. They were not informed of the detention location. After repeated inquiries, the family finally found out that Ms. Shan and Ms. Shang were being held at the Fengnan Detention Center. However, police officials refused to allow the family to visit. After the crimes of those officials were exposed on the Internet, the local police station officials ordered the family to identify those responsible for leaking the information.
Before Ms. Shan Huanrong practiced Falun Gong, she had serious rheumatoid arthritis and had to wear thick trousers during the summer. After she practiced Falun Gong, the disease completely disappeared.
Ms. Shang Shiying was employed by the Tangshan City Hospital for Workers and often suffered from hyperthyroidism and faintness. She was often hospitalized. In 1995, she began practicing Falun Gong and her health recovered. After the Chinese Communist Party (CCP) began persecuting Falun Dafa on July 20, 1999, Ms. Shang was detained five or six times by Tangshan Workers Hospital officials. When she was held in the first detention center, she was shackled, handcuffed, and made to sit for extended periods on an iron chair. She was also detained at the Tangshan Ankang Hospital, where she was injected with unknown drugs and punctured with high voltage electric needles.
Deputy team head Li Lianguang from the Fengnan District Police Department has participated in persecuting Falun Gong practitioners for many years. When practitioners called him to clarify the truth about Falun Gong, he had the calls traced in order to locate the callers and persecute them.
Individuals and organizations involved in persecuting these practitioners:
Lubei District Court of Tangshan:
He Changzhu, director: 86-315-3710988 (Office); 86-13903251612 (Cell)
Diaoyutai Police Station in Lubei District:
Li Jinbiao, former director: 86-13832985800 (Cell)
National Security Team at Fengnan District in Tangshan:
Li Xiaodong, team head: 86-315-35017, 86-315-8169799, 86-13832984429 (Cell)
Zhai Guipeng, instructor: 86-315-35043, 86-315-8122656, 86-13784143399 (Cell)
Li Lianguang, deputy team head: 86-315-35046, 86-315-8285638, 86-13832989637 (Cell)
Yao Chunhua, head of political security division: 86-315-35046, 86-315-8281900, 86-13832984301 (Cell)
Fengnan Detention Center:
Zhang Yongcai, director: 86-315-8181775, 86-315-8198899, 86-13832984782 (Cell)
Qiao Jinyou, instructor: 86-315-8123541, 86-315-8161999, 86-13832981991 (Cell)
Fang Shuyun, police officer: 86-315-8123541, 86-315-7835189