University Lecturer Guo Xiaojun from Shanghai Persecuted (Photo)
July 18, 2010 | By a Clearwisdom correspondent in Shanghai City
(Clearwisdom.net) Mr. Guo Xiaojun, a former lecturer at the Computer Science Department in Shanghai Jiaotong University, was illegally arrested on January 8, 2010 by the Baoshan District Police Department Domestic Security Division in Shanghai, led by Domestic Security Division Director Qiu Feng, and officers Yin Xiaoqiang and Ding Li. The officers also ransacked his home and car, at which time Yin Xiaoqiang repeatedly threatened Mr. Guo's wife.
Mr. Guo's wife initially hired attorney Liang Xiaojun from Beijing for legal assistance. However, officials from the Beijing Judicial Bureau pressured him to drop the case under orders from the 610 Office in Shanghai. Mr. Guo's wife then hired another attorney from Beijing, Shang Baojun, but he also left after being threatened by the Beijing Judicial Bureau.
Baoshan District Court in Shanghai had notified Mr. Guo's family and current attorney, Jin Guanghong from Beijing, that it planned to put him on trial at 9 a.m. on July 6.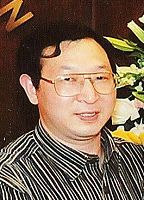 Guo Xiaojun, lecturer at the Computer Science Department of Shanghai Jiaotong University
Since Mr. Guo started practicing Falun Gong, his Meniere's disease and serious stomach problems disappeared, and his upright behavior based on the principles of Truthfulness-Compassion-Forbearance was much admired by his colleagues and students at the university.
When the Chinese Communist Party (CCP) started to persecute Falun Gong in 1999, Mr. Guo was arranged by his employer to be detained at the brainwashing center in Fahua Town for over a month. Li Xingkun, a former clerk from the Security Bureau, was assigned by the Shanghai 610 Office to lead the persecution there. As Mr. Guo refused to give up his belief, on the day of his release from the brainwashing center, Shanghai Jiaotong University informed him that he would be expelled from the CCP. Shortly thereafter, his work opportunities were drastically reduced, resulting in significant decrease in income, and officials began to constantly monitor him outside his home and everywhere that he went.
In 2000, Mr. Guo was charged with participating in a cult organization and was sentenced in court to five years at the Tilanqiao Prison. At the time, the Municipal Public Security Bureau and Shanghai Jiaotong University purposefully misled his family and friends by telling them that he had been sent to a forced labor camp in Xinjiang.
During his imprisonment, Mr. Guo was brutally tortured in Tilanqiao Prison's Second Ward, which was designated for criminals waiting to be executed. The three inmates in this ward who were not to be executed were put into a small cell of about 3.2 square meters, which was only big enough to hold a wooden bed. They had to do everything, including eating and going to the bathroom, in this confined space. The prison guards also assigned criminal inmates to monitor Falun Gong practitioners, which resulted in practitioners being terrorized, beaten, and tortured on a continual basis.
Mr. Guo was released from prison at the end of 2004. He subsequently experienced many difficulties before finding a job. In December 2009, just prior to his latest arrest, his company was forced to fire him after being pressured by a higher-level government agency, despite his excellent job performance and earlier promotion.
Additional information regarding the persecution suffered by Mr. Guo is available at http://www.clearwisdom.net/html/articles/2010/3/17/115398.html.
Individuals involved in the persecution:
Xu Minfang, judge in Baoshan District Court: 86-21-56863544
Zheng, judge in Baoshan District Court: 86-21-56604808-3044
Chen Weidong, Procuratorate in Baoshan District: 86-21-56691990-2305
Yang Yuefei, Chen Keyun, Baoshan District Domestic Security Bureau officers: 86-21-28950349