Thai Falun Dafa Practitioners Stage a Rally to Protest the Start of the Persecution on July 20, 1999 (Photos)
July 16, 2010 | By a Falun Dafa practitioner from Thailand
(Clearwisdom.net) On July 11, 2010, just days before July 20, the day the persecution began in 1999, Falun Dafa practitioners of Thailand rallied in a park in Bangkok to expose Chinese Communist Party's persecution of Falun Gong, calling on the world to recognize the evil nature of Chinese Communist Party and stop the persecution immediately.

Candlelight vigil to commemorate the practitioners that have died in the persecution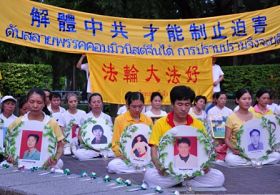 Candlelight vigil in Bangkok, Thailand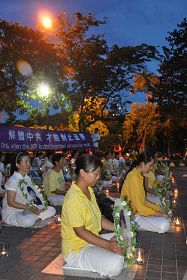 Candlelight vigil, July 11, 2010, in a park in Bangkok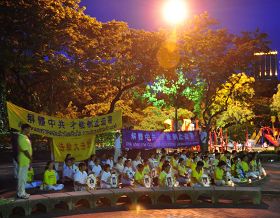 Candlelight vigil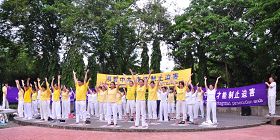 Falun Gong exercise demonstration on the stage, July 11, 2010, in Bangkok
Tourists reading the truth-clarification display boards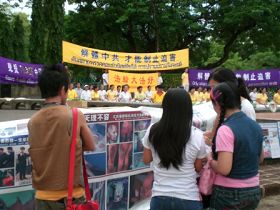 Tourists reading the display boards, July 11, in Bangkok
Passersby wanted to learn more about Falun Gong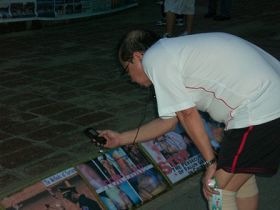 A passerby taking photos with his cellphone of the pictures showing how the CCP tortures Falun Gong practitioners
The persecution of Falun Gong launched by Chinese Communist Party on July 20 1999, has lasted 11 years. During these years, Falun Gong practitioners have clarified the truth about the persecution to the world peacefully and persistently, and they have been gaining more and more support from the world as well as the Chinese people. On the evening of July 11, 2010, practitioners from Thailand rallied in a park in Bangkok. The banners read, "Disintegrate the Chinese Communist Party to Stop the Persecution," "Support 76 Million Brave Chinese That Have Quit the Communist Party," and "Falun Dafa Is Good." Many picture display boards were placed on the lawn, exposing Communist Party's brutal torture and murder of Chinese Falun Gong practitioners. On the stage, practitioners demonstrated the five exercises. That night, the practitioners held a candlelight vigil to commemorate their fellow practitioners that have died in the persecution.
Many tourists and passersby stopped to read the display boards and asked questions. Practitioners told them the history of Falun Gong and its principles Truthfulness-Compassion-Forbearance in both English and Thai. They told how Falun Gong attracted over 100 million practitioners in seven short years between 1992 and 1999 because of its amazing healing powers and how it raised moral standards. But the Communist Party, which maintains its rule based on lies and violence, could not tolerate millions of people following Truthfulness-Compassion-Forbearance and started the persecution on July 20, 1999. In a period of over ten years, it has been confirmed that at least 3000 practitioners have been killed by the CCP. A practitioner told the audience that the practitioners sitting on the stage holding a photo of the deceased were Chinese Falun Dafa practitioners who had been tortured in mainland China.
People were shocked after learning the truth, and many expressed their support for practitioners' efforts. Some used their cellphones to take photos of the pictures of the tortures.