Singapore: Truthfulness-Compassion-Forbearance Art Exhibition Touches People from All Walks of Life (Photos)
July 16, 2010 | By a Clearwisdom correspondent in Singapore
(Clearwisdom.net) The International Truthfulness-Compassion-Forbearance Art Exhibition was held in Singapore on July 11, 2010, and attracted audience members from all walks of life. Some praised the painting techniques and the meaning of the paintings, while others were shocked to learn of the ongoing persecution of Falun Gong in China.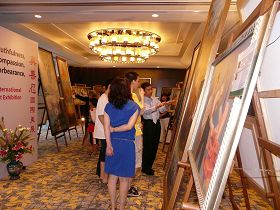 The International Truthfulness-Compassion-Forbearance Art Exhibition was held in Singapore on July 11, 2010.
There are 37 paintings in the exhibition. They came from the hands of 11 artists who are also Falun Gong practitioners.
Ms. Kipper in front of the painting "Studying the Fa"
Ms. Kipper came from Russia. She said she wanted to write down everything she had learned from the exhibition in her personal blog and share with her friends. "My grandfather lived during the time of the former Soviet Union. I learned from him about why the Communist Party suppresses its people," she said. "People should pay attention to human rights instead of being indifferent." Her favorite painting was "Studying the Fa." In the painting, a young mother was reading Zhuan Falun attentively while her little baby slept in her arms. "I want to be like her, she is a great mother. I have two children, and when I want to do something, I always have my husband take care of them." Kipper said that she would buy a copy of Zhuan Falun and read it.
Ms. Yang from Indonesia spent a lot of time in the exhibition. She said she had a relative who was once persecuted in China. She was impressed with the painting of Falun Gong practitioners suffering different forms of torture. "I sympathize with them." She was especially moved by the eyes of those who lost their family members in the persecution.
Mr. Hetherington from England was saddened after seeing the paintings. "I have heard about Falun Gong. I did not know the persecution was so serious and that people actually die." Hetherington liked the painting "Great Unity of Heaven and Man" the best. "I could feel a strong energy from it. The person in the painting is calm and peaceful."
A local gentleman was carried away while looking at the paintings. He said, "I felt the sorrow from the paintings. I like realistic painting style and not the modern style. The look of the little girl in 'The Call of Innocence' is so moving. The painting has a three-dimensional touch. I can see it just as well from far away."
Ms. Song from Liaoning Province in China cried in front of the painting "Tears of an Orphan." She said, "I know many Falun Gong practitioners are tortured in China. I personally know many of them."
The art exhibition was first held on July 20, 2004, in Washington, DC, and has been touring the world ever since. It's been held in over 40 countries and 200 cities around the world.