Canada: Divine Land Marching Band Participates in Burnaby's Hats Off Day (Photos)
June 09, 2010 | By a Falun Gong practitioner in Vancouver, Canada
(Clearwisdom.net) The annual Hats Off Day parade was held on June 5, 2010 , in Burnaby, Vancouver, Canada. Falun Gong practitioners were invited to participate. The Divine Land Marching Band, which is made up of Falun Gong practitioners, gave a wonderful performance and received rave reviews from the spectators. Those watching the parade applauded the band from time to time, and some took photos or videotaped them.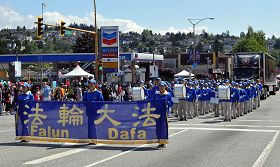 Falun Gong practitioners participate in the Hats Off Day parade in Burnaby, Canada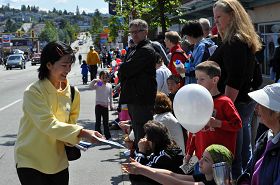 People take Falun Gong informational materials
Nearly 10,000 people took part in celebrating Hats Off Day. More than 60 groups participated in the parade, ten of which were Chinese.
A young man thought the Divine Land Marching Band's performance was "peaceful." A young lady who learned to play flute at school said that she liked the band's drums and trumpets.
The Divine Land Marching Band performance and informational materials about Falun Gong that practitioners distributed to spectators helped more people learn about the goodness of Falun Gong and the persecution of Falun Gong in China.
Burnaby City government officials and councilors have gained deeper understanding of Falun Gong because of practitioners' tireless efforts to tell them the facts about Falun Gong. City officials have given Falun Dafa awards and proclaimed "Falun Dafa Week" and "Falun Dafa Month" in May for several years.