Ms. Shang Shiying and Ms. Shan Huanrong of Tangshan City Illegally Arrested, Tortured and Interrogated
June 08, 2010 | By a Clearwisdom correspondent from Hebei Province
(Clearwisdom.net) Ms. Shang Shiying and Ms. Shan Huanrong are Falun Gong practitioners in Tangshan City, Hebei Province. They were illegally arrested in January 2010, and they were interrogated and tortured at Fengnan Police Department and Fengnan Detention Center. They were forced to sit on steel chairs and were handcuffed and shackled for long periods of time. Zhang Baocai, head of the Fengnan Detention Center, participated in beating these practitioners. In February, the Fengnan District Procuratorate approved the illegal arrests of Ms. Shang and Ms. Shan.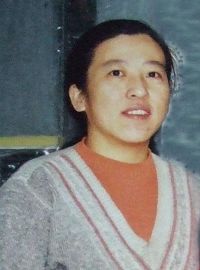 Ms. Shang Shiying
Shan Huanrong and Shang Shiying are sisters-in-law. On the afternoon of January 14, 2010, they were out together driving with Ms. Li Chunxiang, when they were illegally detained in Fengnan District by the police. On January 15, Shan Huanrong's mother and brother went to her home. Immediately after they opened the door, seven or eight officers hiding nearby forced their way in and ransacked the place. They confiscated a computer, printer, and some Falun Gong books. The police summoned Shang Shiying's husband home from work later the same day. They forced him to open the door and ransacked the home. They confiscated a DVD burner and other personal belongings.
The police officers involved in the ransacking included Li Lianguang (from Fengnian District Police Department) and Li Yingxiang and Dong Zhisheng (from Diaoyutai Police Station), among others. A few days later, the police station even demanded that the practitioners' families return the receipts (that listed the items taken away) to them, as an attempt to destroy evidence of their persecution.
The three women were abruptly and illegally seized and taken to the Fengnan District Police Department, where they were forced to sit on steel chairs for twenty-four hours. During that time, they were forced to keep their eyes open, and were not allowed to use the toilet. Shang Shiying didn't eat or drink the whole day. When she refused to be photographed, Fengnan District Domestic Security Division Head Yao violently pulled her down by her hair, causing her neck to sprain. Shang also had numbness in her right thumb, dizziness, increased blood pressure, and neck and shoulder pain afterwards.
After they were taken to Fengnan Detention Center, center head Zhang Baocai beat Shang Shiying. Political head Qiao Jinyou and guard Fang Shuyun viciously cursed at her. Shang was handcuffed and shackled for 14 days. Her wrists were cut and scarred, and her socks were torn by the shackles.
Shang Shiying is an employee of Tangshan Workers Hospital. She has been detained by her employer five or six times. She has also been imprisoned in Tangshan No. 1 Detention Center, where she was locked in solitary confinement, shackled, hands cuffed behind the back, and forced to sit on a steel chair. She was once been illegally arrested and taken to Ankang Hospital (a mental hospital) in Tangshan City, where she was injected with damaging drugs and tortured with an electric needle that sent 40 amps of current through her body.
Shang and Shan's family members asked the police for their whereabouts, but Li Lianguang, deputy head of Fengnian District Police Department, refused to tell them. The families tried various channels and learned that the practitioners were currently at the Fengnan Detention Center. After the persecution was exposed on the Internet, the local police station questioned the practitioners' family members to track down who exposed their criminal acts. The police have not returned the car that Shang and Shan were driving when they were arrested.
The following persons were involved in the persecution:
Lubei District Diaoyutai Police Station: 86-315-2034632
Li Jinbiao, former head: 86-13832985800
Fengnan District Domestic Security Division:
Li Xiaodong, head: 86-315-8169799, 86-13832984429
Li Lianguang, deputy head: 86-315-8285638, 86-13832989637
610 Office head, Hao Lianxing: 86-315-8189897, 86-315-8298829, 86-15081988829
Zhang Yongcai, Fengnan Detention Center head: 86-315-8181775, 8198899, 13832984782
Qiao Jinyou, political head
Fang Shuyun, guard