Ottawa: Chinese People Learn the Truth About Falun Gong During Hu's Visit (Photos)
(Clearwisdom.net) On June 24, 2010, the second day of Hu Jintao's visit to Canada, the Chinese Embassy in Ottawa organized Chinese students to welcome Hu, trying to overcome Falun Gong practitioners' calling for the end to the persecution. Practitioners' voices however, were never interrupted.
In front of the Parliament Hill, practitioners clarified the truth to the Chinese who were organized by the Chinese Embassy to welcome Hu.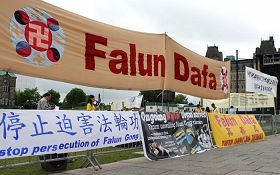 Practitioners are holding banners in front of the Parliament Hill.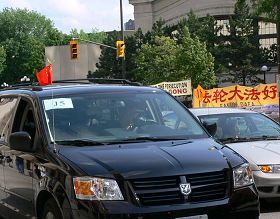 Hu sees practitioners' banners everywhere
On June 24, Hu arrived at the governor's house at 10:30. Practitioners had been waiting for him along Sussex Dr., the route to the governor's house, since early morning. When Hu's car passed by, they shouted "Falun Dafa is good," "Stop the persecution of Falun Gong," and "Bring the murderers to justice."
Mr. Li Xun, from the Falun Dafa Association in Canada, said that the Chinese people organized by the Chinese Embassy occupied all the spots in front of the governor's house. But on the morning of June 24, the police made them yield room for Falun Gong practitioners. Mr. Li said, "The Chinese Embassy's purpose is to suppress differing voices. They can't do it in Canada."
The Canadian police praised Falun Gong practitioners for being peaceful and collaborative. In contrast, the Chinese "welcome" team continually played drums, which violated the rules. One police officer said, "They don't mind paying the fine, because the Chinese government will pay it."
The Chinese Embassy split the Chinese welcome team into two groups. One group faced the main street to welcome Hu, and the other group faced Falun Gong practitioners, making noise and trying to overcome practitioners' calls.
Falun Gong practitioners were peaceful. A practitioner read the Nine Commentaries on the Communist Party through a loudspeaker to the Chinese welcome team. They also played Falun Gong music. Gradually, the Chinese welcome team calmed down, and some of the group started listening to the practitioners.
Heavy rain fell during the afternoon, and some people on the Chinese welcome team left. Practitioners did exercises in the rain.
Some Chinese came to support Falun Gong. Mr. Tang Yilin from Ottawa said to the reporter, "Well done, Falun Gong." Ms. Jiang, a local citizen, was not happy that the Chinese Embassy spent money to organize Chinese people, trying to suppress Falun Gong's voice. She said, "The Chinese Communist Party robs people in China, but wastes money on this. Some people who I know were in the welcome team. They stayed in the fancy hotel, and the embassy paid for it. You can imagine how much money the embassy spends on this."