Practitioners Invited to Participate in Annual Health Fair in Lewes, Delaware (Photos)
May 05, 2010 | By a Falun Dafa practitioner in the U.S.
(Clearwisdom.net) The 17th Annual Holistic Health Fair was held on April 24, 2010 in Lewes, Delaware, and Falun Dafa practitioners were invited to demonstrate their five sets of exercises.
Practitioners were invited to participate in the 17th Annual Holistic Health Fair in Lewes, Delaware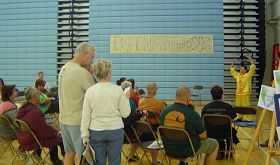 Demonstrating the exercises
According to Ms. Sherry McGoldrick from Wellnet, the organizer of the health fair, there were ninety-five exhibitors from Delaware, Pennsylvania, New Jersey and Maryland, and more than 1,500 visitors. The exhibits included health equipment, information on physical therapy, medicine and health, organic health foods, taichi, yoga, Chinese silk fabrics, and so on.
Every year since 2000, Falun Dafa practitioners have been invited to participate in the event. As in previous health fairs, a large number of visitors were attracted by Falun Dafa's amazing effects in healing illness and helping people keep fit, and its gentle and smooth exercises. Many people inquired about how to do the exercises. Some people wanted to learn the exercises after seeing the demonstration. Ms. Carol Joson, resident of Lewes, was excited and said, "I can't do intense movements, but this set of exercises has soft and slow movements. It is right for me. Moreover, it's free of charge. That's fantastic! I'll download information about the exercises from your website after returning home."
Many people found it incredible after learning about the persecution of Falun Gong in China. Mr. Tom McBride from New Jersey said, "No persecution will last forever."