Texas: Divine Land Marching Band Takes Part in Fiesta Flambeau Parade (Photos)
(Clearwisdom.net) On April 24, 2010, the annual Fiesta Flambeau Parade, the biggest nighttime parade in America, was held in San Antonio, Texas. The Divine Land Marching Band, consisting of Falun Gong practitioners, performed in the parade as the only Asian group.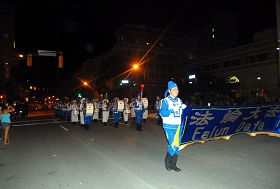 The Divine Land Marching Band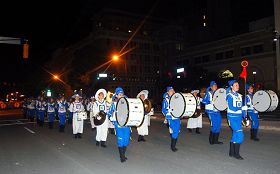 The band
The Fiesta Flambeau Parade started in 1948, and is part of the Fiesta celebration which is held every April. Flambeau, a French word, refers to a tall, decorated burning torch. Every entry of the parade is required to decorate itself with lights, so there are thousands of lights in the parade.
This year, the theme of the parade was Legends in Music. More than 100 groups took part. The parade went on for 2.6 miles. More than 500 thousand people watched the parade, and 1.5 million watched it on TV.
Ms. Yang, a Falun Gong practitioner from Dallas and member of the Divine Land Marching Band, said: "I was very touched that the spectators were so warm. They bowed to us and greeted us in a Buddhist way. It was also the longest parade I've attended, but I was very happy that we can bring the beauty of Falun Gong to people."
Tracy, a local Falun Gong practitioner, watched the whole parade with her family. She started practicing Falun Gong in 2001. She said, "I was touched that the band was so warmly welcomed. Their performances were great. Many members are from other cities. I want to tell them that their efforts were worthwhile, because so many people saw how beautiful Falun Gong is."