Taiwan: Bringing "Truthfulness-Compassion-Forbearance" to Qishan Township (Photos)
May 28, 2010 | By a Falun Dafa practitioner from Taiwan
(Clearwisdom.net) On May 23, 2010, Falun Dafa practitioners were invited to the special "8.8 Care and Rebuild" events at Qishan Elementary School in Kaohsiung County. The event was organized by Huifeng Automobiles to help support the victims of the August 8 flooding disaster in the Qishan area. Anything sold at the event was to be donated to the rebuilding project. The organizers invited Falun Dafa practitioners to perform an exercise demonstration and waist drums at the event.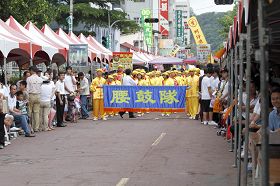 The Falun Gong waist drum team marches into the event
Waist drum team performing music composed by practitioners
Director of Gaoping District Wu Zangeng presents a certificate of appreciation to Falun Gong practitioners
Practitioners handed out fliers to promote the practice and demonstrated the five exercises. Their performance received a warm welcome from the local folks. The participating practitioners wanted to bring the beauty of Falun Dafa and Truthfulness-Compassion-Forbearance to the people of Qishan.