Ms. Wang Chunyan Persecuted in Prison, Daughter in the U.S. Raises Awareness (Photo)
May 28, 2010 | By a correspondent in Liaoning Province, China
(Clearwisdom.net) Falun Dafa practitioner Ms. Wang Chunyan is an entrepreneur in Dalian, Liaoning Province, China. She is incarcerated at the Liaoning Women's Prison. After nearly two years of persecution, she appears to have developed severe hypertension and heart disease, and her life is in constant danger. However, the prison has forbidden her family from applying for her to be released for medical treatment.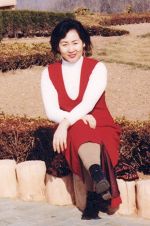 Dalian practitioner Wang Chunyan
Ms. Yu Ping, Ms. Wang Chunyan's daughter, raised awareness about her mother's plight during the China-America human rights discussion on May 13 and 14, 2010, in Washington, DC. When Ms. Yu found out what her mother's blood pressure was, she said, "I have been studying medicine. When one's blood pressure reaches 200, it is very dangerous, much less 240. What shocks me even more is that they refuse to let my mother be released for medical treatment when her blood pressure is that high. That is definitely killing!"
Ms. Wang's blood pressure is high: 230 to 240 over160 to 180. Her heart rate is 140 beats per minute. Her eyes bulge because of high blood pressure, and she always feels like her blood vessels are bloated. She walks slowly and needs something to help her walk. Even so, prison officials won't allow her to go because she won't give up her belief in Falun Gong and refuses to sign the three statements. Guards ignore the fact that her vessels could break at any time, or that her heart may stop beating, and they keep forcing her to work like everyone else and to watch on the side even when she is not working. Every day, Ms. Wang has to go up and down between three floors. This is very dangerous for her.
Ms. Yu Ping was persecuted in mainland China, too. Her mother was arrested by the CCP several times because of practicing Falun Gong. Her father, who was not a practitioner, was also persecuted indirectly and he passed away in 2001. Ms. Wang was arrested again in August 2007, and was sentenced to five years in March 2008. Ms. Yu's two aunts, Wang Chunrong and Wang Chunying, were sentenced for 27 months and 18 months, respectively.
Ms. Wang Chunyan was a sharp manager at the Kanglai International Transportation Company in Dalian. On August 14, 2007, when she was driving her daughter out, they were arrested by an unknown person and taken to Xiuyue Police Station. Both were questioned. One officer spilled cold water on Ms. Yu and slapped her. Another officer even said, "We are the violence machine of the Chinese Communist Party."
After Ms. Wang's five-year sentence, she was persecuted in Liaoning Women's Prison. To resist the persecution, Wang Chunyan said "no" to all of their schemes. She was tortured until she was unconscious three times a day, foaming at the mouth, her heart stopped beating, and she stopped breathing. At that point, they would revive her.
We are now calling for the world to pay attention. Meanwhile, we hope that Falun Dafa practitioners all form one body, clarify the truth to those involved, save more people, and send forth righteous thoughts for Wang Chunyan.
Authorities Directly Involved:
Yang Li, the chief director of Liaoning Women's Prison: 86-24-89296666(Office), 86-24-86914173(Home), 86-13390118299(Cell)
Fang Shuxia, the vice director of Liaoning Women's Prison: 86-24-89296633(Office), 86-24-86164016(Home), 86-13390116633(Cell)