Toronto: Parade and Rally Held to Celebrate the Benefits Falun Dafa Has Brought to Millions Worldwide (Photos)
(Clearwisdom.net) Falun Gong adherents from across Canada held a rally and parade in Toronto on Sunday to celebrate the benefits Falun Dafa has brought to millions of people worldwide and to raise awareness about the persecution it suffers in China.

Around 500 gathered in Queen's Park Sunday morning to do the exercises before holding a rally where speakers and community leaders shared their thoughts with the crowd.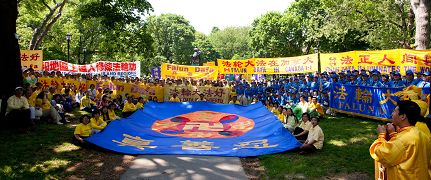 The rally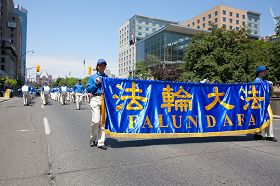 The parade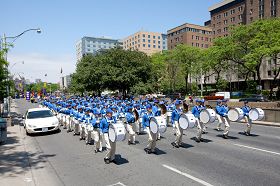 The parade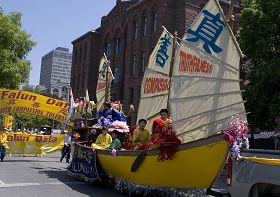 The parade
Many practitioners shared their experiences of benefiting from Falun Gong at the rally.
Susan Williams from Halifax, Nova Scotia, is an artist. Last June, when she was looking for a qigong practice, she found Falun Dafa.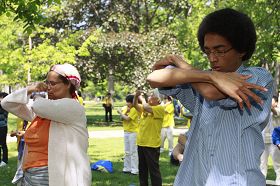 Susan Williams and her son participate in group exercise practice
"I realized that it is a high-level qigong right away, because I suddenly felt peaceful and relaxed when I was learning the first movement. I knew I needed to practice this," Susan said: "I have been looking for something pure. When I found it, I knew right away--this is righteous."
Susan had been sick for seven years. She had cancer. She could not even walk or stand for more than 5 minutes. Sometimes she could not even see. So, she had practiced another form of qigong for a long time, which was not effective, but expensive. After practicing Falun Gong, she felt a change in her body right away. Three months later, her health was dramatically improved and she can even go to work.
Her 17-year-old son, Otab, saw the changes in his mother, so he started practicing too.
Ms. Hu was a doctor in China before she moved to Canada. She had many diseases. She could not fall asleep without an electric acupuncture device on her ears. She also had severe pain in her shoulder and head. One day, after she had recently begun practicing Falun Gong, she felt a cool energy flow going through her head. She shook her head, and since then she never had a headache again. All of her diseases were healed in two months. She no longer needs the acupuncture device to fall asleep.
Many citizens and tourists stopped to watch the parade and rally.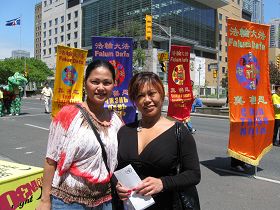 Vicky from the Philippines and her friend support Falun Gong practitioners' peaceful resistance to the persecution in China.
Clement Rodrigo, a leader in Toronto's Southeast Asian community, said the ongoing efforts of Falun Gong practitioners to resist and stop the persecution of their group in China left him optimistic.

"I'm encouraged constantly when I find out people get together, unafraid to speak out," he said.

"The Chinese government is starting to feel the cracks because of the growing respect the practice has gathered."

He said that many people in the political arena were also supportive and were starting to realize they should not be intimidated from speaking out against the actions of the Chinese regime.

"We should not be afraid to express our concern to the Chinese government that is unnecessarily trying to put a muzzle on people who want to make a better world, to have better family relationships."
Ms. Zhao, a Falun Gong practitioner from Shandong, escaped to Canada six months ago. She said: "This is my first time attending such a large-scale Falun Gong activity. I am very excited. I heard about practitioners' parades and the Divine Land Marching Band when I was in China. Today I felt so fortunate that I was in the parade. Practitioners' activities overseas are a big encouragement and support for the practitioners in China."