Ms. Zhan Yang Suffers Mental Breakdown as a Result of Persecution (Photo)
May 26, 2010 | By a correspondent from Heilongjiang Province, China
Name: Zhan Yang (战阳)
Gender: Female
Age: 39
Address: Relation Building, University of Heilongjiang, Xuefu Road, Nangang District, Harbin City (哈尔滨市南岗区学府路黑龙江大学家属楼)
Occupation: Employed by Harbin Sun Health Products Inc. (哈尔滨红太阳保健品集团公司)
Date of Most Recent Arrest: Beginning of July 2001
Most Recent Place of Detention: Police station
City: Harbin
Province: Heilongjiang
Persecution Suffered: Electric shock, brainwashing, forced injections/drug administration, beatings, torture, force-feedings, physical restraint, home ransacked, interrogation, detention, denial of restroom use
(Clearwisdom.net) As a young woman, Ms. Zhan Yang was universally recognized for her gentle manner and numerous talents, but as a result of being terrorized by the Chinese Communist Party, she suffered a mental breakdown.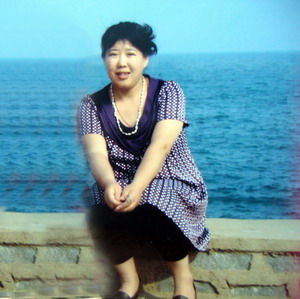 Ms. Zhan Yang, taken in 2008
Zhan Yang's life before 1999
Born in May, 1971, Ms. Zhan graduated from college with a double-major in fashion design and acupuncture. Prior to practicing Falun Gong, she suffered from congenital heart disease, rheumatism, and gynecological ailments. After she started practicing with her parents in October 1995, all of her illnesses disappeared.
In 1996, she started working at Harbin Sun Health Products, Inc. Within three years, she was a product promoter and treasurer, among other things. She had always been a hard worker and was awarded the title of "Excellent Worker" several times.
As a practitioner, she was at peace all day long, because she came to understand the true meaning of life and appreciated every precious moment.
Appeal to the provincial government and ensuing persecution
On July 20, 1999, the Chinese Communist Party (CCP) began to persecute Falun Gong. In order to let the government officials know that Falun Gong was beneficial to each individual and society, Ms. Zhan and her parents went to appeal to the province government on July 22, 1999. They were detained for the whole day. First they were sent to a school far away from downtown. There the policemen told them that making appeals was not allowed. The police forced all the detained practitioners to listen to the propaganda that CCTV (China Central Television) had produced to vilify Falun Gong. They also recorded every practitioner's name, address, work unit and phone number. Late that night they were released.
As events transpired it was apparent that Zhan Yang's family was a main target in the persecution. The University of Heilongjiang, where both of her parents taught, set up a five-member team just to try to "transform" them. The family was continually harassed by local officers from Harbin City Police, Nangang District Police, and the sub-district office.
The section chief of Nangang District Police, Zhang Jinbin, was posted at Ms. Zhan's apartment almost every day. A CCP member at the University of Heilongjiang followed them and made every attempt to try to force the family to renounce their faith in the teachings of Falun Gong. The secretary of the Party committee at the university even suspended the wages of Ms. Zhan's parents. It was well known that her parents supported her grandparents. Their colleagues said it would put the whole family's life in a dreadful situation if their wages were suspended. Nevertheless, their wages were withheld for a month and were never reissued. Even so, the family's determination to cultivate was not affected.
Zhan Yang suffers mental collapse
On the morning of October 4, 1999, four people, including Wu Guiman and Sun Zhongguang, from the Security Division of the university went to their home all smiles. They said, "Teacher Zhan, Teacher Liu, we need to talk with you. Ask Zhan Yang to come along, too." The three were taken to the Security Division and put in separate rooms for interrogation. Each of them was surrounded by a group of fierce young men dressed in police uniforms. The director of the Security Division was Liu Gang. The deputy director was Li Xuefeng.
At that time, Ms. Zhan had just recently graduated from college. She was an innocent and timid girl and had never experienced anything like that. About seven people were yelling at her, with others banging on the table, and still others audiotaping everything. They asked her, "What organization do you have contact with? Who do you keep in touch with? Who comes to your house? What activities have you participated in? You were told already not to practice Falun Gong and you are not supposed to contact others."
University personnel set up a private court of law inside the campus. Some were students of the law school who dressed in police uniforms. They were instigated to act in a threatening manner and they did so nonstop for more than two hours.
When Ms. Zhan got home, she was terrorized. She was overwhelmed by fright and had flashbacks of people dressed in police uniforms yelling at her, taking pictures of her, and banging on the table. She couldn't fall asleep no matter how she tried. She was even scared to go to the restroom. Her situation worsened and she couldn't stay at home anymore. She stayed with relatives for more than five months and did not recover. She went into hiding all the time. She got lost twice and the whole family was rather disturbed and troubled.
In the meantime, her parents were under house arrest. They were picked up in the morning and taken home around midnight. There was also a police car and police officers outside the house watching them. Later the guards (about 10 of them) got sick, one after the other, and the police didn't have enough people to watch them, so the police pressured her and her parents to sign a "guarantee." Meanwhile, the neighborhood committee would be assigned to watch them. Afterwards, section chief Wang from Harbin City Police Station went to the university security division and ordered security to not let the couple step off the campus, and to arrest them if they did.
When Ms. Zhan Yang's parents' house arrest was lifted, they were shocked to find that their daughter wasn't in her right mind. They went to see Liu Gang, the director of the Security Division, voicing their displeasure at the unfair treatment by their own workplace. As for frightening their daughter, they placed the blame squarely on the security division for her breakdown.
Because her parents put forward a strong and fair argument, the Security Division had to issue a certificate, attesting that Zhan Yang's breakdown was due to the fear tactics of the Security Division. It had nothing to do with her practicing Falun Gong.
Zhan Yang's family looked for a cure for her. The neurologist from the Harbin Medical University diagnosed her with schizophrenia. After a period of treatment, her symptoms improved and she returned home in April 2000.
Appeal to Beijing & worsening of symptoms after torture
Ms. Zhan and other practitioners went to Beijing to appeal for Falun Gong on April 25, 2000. They were arrested and then taken back, followed by detention at the Second Detention Center of Harbin. During the detention, she wanted to do the exercises. In response, the police tied her to an iron chair with her feet and hands tied as well. She couldn't make a move for three days and nights. In the meantime, the police beat her with a "Little Dragon" - a plastic tube filled with sand. Because the police mistook her for a young girl, they thought they could "transform" her with some "special methods," none of which worked.
Zhan Yang's parents went to see section chief Zhang Jinbin of Nangang District Police. They showed the certificate issued by the Security Division of University of Heilongjiang. The police officer overseeing the case, Han Xiuwen, made supportive remarks, confirming the certificate's findings. After 26 days, she was finally released from detention.
Afterwards, Ms. Zhan's symptoms worsened. She was found muttering to herself, staring blankly at the wall, and laughing for no reason.
She was consumed by fear to such an extent that she couldn't stay at home in July 2001. She went to see her mother who had also left home, but was apprehended en route by the police keeping watch on the place. She was held for more than a day, after which her symptoms worsened. She was in a state of perpetual fear. She said that someone wanted to kill her, and she would hide whenever she saw anyone. She later left home and wandered about.
Lost and terrified
Zhan Yang's mother found her on New Year's Day 2002, but they had to keep moving to avoid arrest. They moved six times in the city, as well as seven times throughout the countryside over the past eight years.
In May 2008, she and her mother went to a supermarket. Her mother told her to wait for a minute while she went to do something, but when she returned, Zhan Yang was gone. The family found her by midnight. Three days later, she went into convulsions for more than an hour. She appeared to be in pain. She could barely walk and fell down a couple of times the following two days. She was delirious, so her parents had to take her to the hospital. Her symptoms calmed down after four months of treatment.
Her symptoms reappeared in March 2009. She cried often and hit her mother in the head. She ran barefoot in a snowy field in just a tanktop and underwear. She would sit on the heated brick bed without moving all day, trembling and staring, transfixed. She urinated in bed without realizing it and didn't even mind that her skin was burned.
The police wouldn't let her go despite her condition. In June 2009, personnel from the district office and the district police went to Ms. Zhan's home. Her father said, "It was all because of you that Zhan Yang suffered this mental breakdown. We are worried that nobody can take care of her. Now, will you take care of her!" The police officers left when they heard that.
On the afternoon of August 19, 2009, Zhan Yang left home in her pajamas. Her parents lost sight of her even as they chased after her. They were notified that she was in a receiving station four days later. She looked haggard. There was mud on her body and fresh scars on her legs.
Ms. Zhan became disoriented again on September 11, 2009, and lost her sense of direction. After finally finding her way home, she looked exhausted and slept for several days.
After her parents took her to the hospital, Ms. Zhan's brother went to see her. She was sitting there, in chains. He saw that she didn't look as lively as before. His heart trembled, and when he got back home, he described the condition of his poor sister, and how the hospital staff had put her in chains. He asked their mother about taking her home.
Her family got her out and she now lives with her mother. Her family members have also suffered mentally and financially. The medical charges came to more than 100,000 yuan.
Individuals involved in Ms. Zhan Yang's case:
Zhang Jinbin, section chief of Nangang District Police, Harbin City
Song Yong, policeman from Haxi Police Station, Harbin City
Xu Shidong, secretary of the Party committee of University of Heilongjiang (retired): 86-13359708687 (Cell), 86-451-86608335 (Home)
Liu Gang, director of the Security Division: 86-13936242567 (Cell)
Li Xuefeng, deputy director of the Security Division
Director Wang, Haxi sub-district office: 86-451-86661209
Yang Jianghua, doctor in charge of Harbin Puning Mental Hospital: 86-451-88083974
Yang Zhen, secretary of the Party committee of University of Heilongjiang (current): 86-451-86608500 (Office), 86-451-53646952 (Home)