Recalling the First Falun Gong Lectures in Changchun in 1992
May 24, 2010 | By a practitioner in Changchun
(Clearwisdom.net) Eighteen years ago, I was lucky enough to attend the first study class to hear Teacher's lecture in person. My memory of it is still vivid.
The class was held at the Auditorium in the Changchun Fifth High. When I walked upstairs, Teacher happened to be looking down at the entrance and greeting the students. Teacher was tall and big, wearing a white T-shirt with red stripes, and appeared so young. Teacher was smiling and was very polite, energetic, peaceful. I felt that I had met him somewhere before and he was very amiable.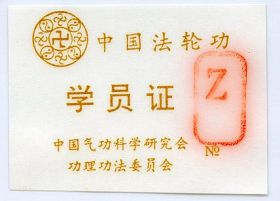 Student ID
The tables and chairs in the Auditorium were all very old. There was a podium and a blackboard. About 200 people attended the class.
The classes started very punctually. Teacher used no transcript, except for a small piece of paper. Teacher said: "What I teach is an exercise of the Buddha school. A Buddha is not superstition; he is an enlightened person. Soon you will know what I mean. You need to pay attention to what I say. Everything is in my lecture."
I had never attended any class before, and was totally ignorant of qigong. Therefore, I was especially attentive. Teacher said: "The cosmos has a character, which is Truthfulness-Compassion-Forbearance. The Buddha school talks about forbearance. Have you seen any Buddha fighting with people, sitting cross-legged, carrying a wine bottle, or smoking with a cigarette in his mouth? You need to quit smoking if you want to cultivate." Teacher also said: "High level qigong masters will talk about "xinxing"when they teach qigong. This is true cultivation. Some qigong masters only teach movements but not "xinxing", it is tantamount to teaching voodoo."
Teacher talked about Buddha image consecration. Some practitioners brought Buddha statues from their homes to Teacher and asked him to do the consecration for them. Teacher held the Buddha statue in his left hand, and used his right hand to clear away the bad stuff on it. I wrapped the small Buddha statue at my home with a red cloth and brought it to the classroom. Before the class began, I went to Teacher, bowed to him, and asked him to do the consecration. After the class, every one felt cold since it was raining. I held the Buddha statue in my chest and felt its warmth.
Teacher talked about two incidents that I still remember well. Teacher had a sister in Thailand whom he went to visit. The nanny in her home knew another nanny in a different family. The man of the family had leg problems, which he could not get cured in spite of all his efforts. He did not believe that Teacher could cure him, but Teacher still was willing to help. Teacher sent out gong and the man felt chilly at first. He could feel cold air rushing out from his leg. The man's whole body next felt warm. Soon the swelling in his leg was gone. Later Teacher treated him a few more times and his leg was totally healed. His whole family was very grateful.
Teacher also helped a person who was in a vegetative state, who had been bed-ridden for several years. Someone came and asked Teacher for help. After some consideration, Teacher agreed to help him once. At the end, the person became conscious again, but he could not recognize his family members.
Teacher taught us the exercises after the lecture. He gave each of us a booklet- Falun Gong. It had 12 pages, in a size a bit smaller than today's magazine. In it were pictures of the movements of the exercise drawn in stick figures. Teacher taught us and cleansed our bodies at the same time.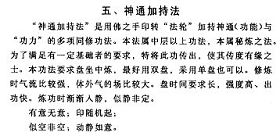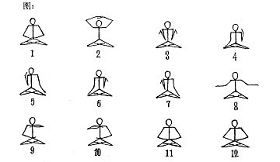 I did not understand what was happening at the time. Teacher said that while he was lecturing, he was sending out gong. I did not know what it meant. However, when we were doing the second exercise, holding the law wheel in front of the head, without seeing Teacher doing anything, people in the whole site reacted - some cried, some laughed, some moved their hands and legs around, some kept coughing. I cried continuously, which I had never done so profoundly in my life. It was as though all my sorrow came out at once. Teacher said kindly: "Keep crying. Don't try to stop. Cry if you want to." I felt a bit embarrassed, but later I realized that Teacher was cleansing our bodies. Because each person's condition was different, the manifestation was different too. After crying I felt much better. A few sessions later, I felt my whole body was agile. It was as though someone pushing me from behind when I climbed stairs, and I did not feel tired no matter how far I walked.
At the time, we did not have any concept of cultivation. Everyone was thinking about curing illness. During intermission many people went up to ask Teacher for help. I felt sorry for Teacher, and was upset at them for not letting Teacher rest. Teacher had talked for an hour and a half, and did not have a sip of water. This first set of classes was held from 6:00 p.m. to 8:00 p.m. every night. During this time, no one took care of Teacher's daughter Meige. She played at the site, and waited for Teacher's wife to get her after work.
One woman in our class was a member of the Chinese Communist Party. Although she came to the class, she still said that it was superstition. Teacher got rid of her cancer, and she knew that she had been healed, but she still did not believe what Teacher said.
There were many forms of qigong being practiced in China at the time. Some other qigong masters came to listen to Teacher's lectures too. Because they did not emphasize xinxing and had bad stuff on their bodies, they created some interference. They sat there and talked loudly. The first day I was truly bothered, and later moved away to avoid them. Teacher did not say a thing, and only continued his lecture.
One thing I have a clear memory of was that a practitioner brought a teenage girl to the class. When Teacher was lecturing, she began to cry loudly, forcing Teacher to stop. One qigong master got up and went in front of the girl and tried to calm her down, in an attempt to show off, but he failed. Two or three more qigong masters also tried, but also failed and the girl was still crying. Teacher walked down from the podium in front of the girl, gently tapped her three times on her head, and she stopped crying. Everyone was amazed and in awe. They burst into a roaring applause.
Later, there was some more interference. Teacher knocked the table with his fingers a few times and everything turned quiet.
Indeed it was like what Teacher said in "Teaching the Fa at the Assistants' Fa Conference in Changchun:"
"As a matter of fact, many of our veteran practitioners in Changchun know that it wasn't easy at all when we first began teaching this Fa and our exercises in the early days. We went through a difficult period of trials and tribulations before we were able to spread this Fa far and wide and make it known to more people. So our work wasn't at all easy in the beginning. Nevertheless we made it through. And it was here in our Changchun that we took the first step of introducing this Fa to the public. What I taught back then wasn't as profound as what I'm teaching today. I was merely teaching things of a transitional period, one that went from qigong to the true Fa. Later on, I gradually, truly unveiled this Fa and allowed more people to get to know it. It was done very systematically."
After the first class was over, two distinctive things happened to my body. One was that I would fall down while on level ground. It did not hurt; there was no bruising, no swelling, and no cuts, I just fell for no apparent reason. I fell at the bridgehead when I went to the park to do the exercises in the morning. A couple next to me helped me up. The next day I fell again at the same place after the exercises. Two people helped me up, and surprisingly, it was the same couple. In this way, I fell dozens of times. Afterward, my body changed dramatically. Before this, I had inflammation in the cartilage in my chest bones, which protruded, raising my shoulder and causing my body to bend toward one side. After the falling, my bones returned normal. I realized that it was Teacher who got rid of my bad karma. Another incident was that when I did meditation at home, in a single-lotus position, I would turn in circles in the room as soon as I closed my eyes. My hip and legs were still touching the floor, but it was as though they had legs. When I opened my eyes, I was over on the other side of the room. It went this way for many days. When I did the holding the law wheel next to the ears, my head began to turn violently and I could not stop it, while inside my ears was a loud drumming sound. They both stopped when I put my hands down. My spine at the neck had pinched nerves before, and it was cured this way.
After the second class, Teacher gave a lecture at Changkong Club (at the northwestern corner of Triumph Park) to help cure illnesses of the students of the two classes and their friends and relatives. At least 300 people showed up. I brought along my children and my neighbor. On the stage, Teacher moved both hands in a circle, first toward the left, and then toward the right, as though turning the giant law wheel. The whole site was turned into motion as a result. Some cried, some laughed, some jumped up and down, some swayed back and forth, some sang, and some coughed. It lasted for about half an hour before it stopped. I had serious arthritis in my legs which was cured as a result. I had been to Xingcheng to seek treatment, and took a lot of pills. On top of that, I had lots of other illnesses. When Teacher finished moving his hands, my whole body felt chilly and trembled. After about 15 minutes, I felt warmth as though I was being exposed to the warmth of the sun. Through this process, my illnesses were quickly cured. After everyone had quieted down, Teacher asked us how we felt. The staff at the site gave us a piece of paper and asked us to write down our experiences. I wrote: "My whole body felt agile, and I could walk briskly."
At the exit, there was a donation box. I donated five yuan. All the money collected was for charity.
Within a half year of beginning my cultivation, a dozen or so illnesses that I had all went away. My weight turned normal. My celestial eye opened, and I could stitch without glasses. Seeing what Teacher did for us, I began to understand: "Saving people has no conditions attached, there's no asking a price, and there's no wanting rewards, there's no taking credit." "it's done completely out of compassion." (Zhuan Falun)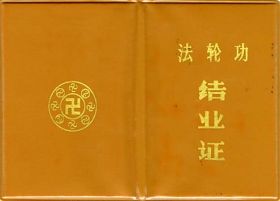 Falun Gong Graduation Certificate
At the end of the first class, Teacher gave each of us a certificate, each with our own photo, Teacher's seal and a Dafa seal. Just as is says in Zhuan Falun: "I think that whoever gets to hear me transmit the exercises and teachings in person, I'd say he's really... later on you'll know, and you'll feel really glad about this period of time." It is especially true for those who could attend the first class. Teacher said: "You are here, the first class. It is truly precious. You will not be able to get what I give you in no matter how many years."
Eighteen years have quickly passed. That period of time was so precious.