Celebrating World Falun Dafa Day in Vienna (Photos)
May 21, 2010 | By Zheng Qing
(Clearwidsom.net) On May 13, 2010, Austrian Falun Dafa practitioners held activities in front of the Cathedral in Stephansplatz, a famous tourist attraction in the center of Vienna, to celebrate the 11th World Falun Dafa Day.
Celebrating Falun Dafa Day
On the day of the activities, it was sunny and there were many tourists. The peaceful Falun Gong exercise demonstration attracted many tourists and local residents. People came to ask about Falun Dafa and the facts of the persecution of Falun Dafa by the Chinese Communist Party (CCP) regime. Many tourists asked for the contact information in their own countries and expressed their intention to learn Falun Gong.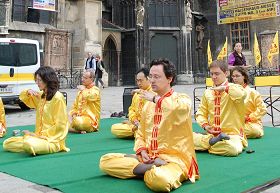 Doing the exercises in Stephansplatz in Vienna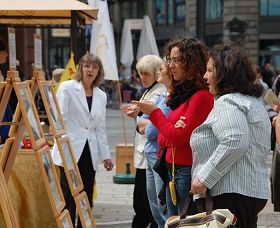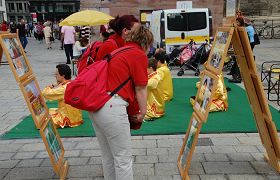 Passersby studying the photos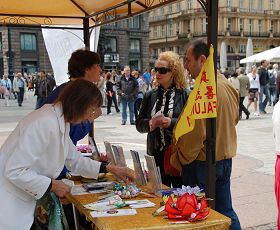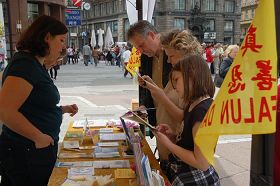 Learning about the facts about Falun Dafa
Signing the petition to support Falun Dafa
A small chorus of practitioners sang "Falun Dafa Is Good" and "Pudu."
It was also a good place for children. An information desk was prepared especially for children to learn to fold paper lotus flowers and to do Chinese calligraphy. This attracted a big group of passersby.
Predestined people come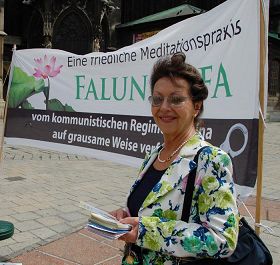 Helga would like to tell everyone she knows how good Falun Dafa is
Helga is a Falun Dafa practitioner in Vienna. She started practicing two years ago. She told the reporter, "I had tried other kinds of qigong before. Later I heard of Falun Gong and learned that this cultivates both mind and body based on the principle of Truthfulness-Benevolence-Forbearance. This was what I had been looking for all my life. Since practicing it, I have been in good health all the time and never gotten sick. I am telling everyone I know how wonderful Falun Dafa is."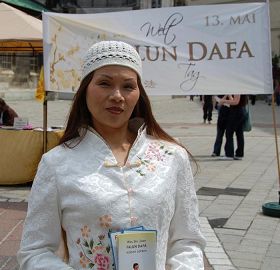 After three month of cultivating Falun Gong, Angela's pollen allergy completely disappeared.
Angela has traveled over twenty countries in the world following her husband's career. Two years ago she came and lived in Vienna. By a chance she watched once a TV programme of NTDTV. She immediately felt that this television was different from other Chinese ones, what NTDTV told was true. Thus she loved NTDTV. Gradually when she watched this television she learnt the persecution of Falun Gong in China. Later she thought to have a try and started cultivation. She said: "I had ever had the pollen allergy for 15 years. It was worse this time of every year. I had taken the injection treatment for 15 years. Later doctors all said no way to treat it, and the medicine did not work. But when I have cultivated Falund Gong for only three months, my allergy is cured at all. I never get it back. And also my temper is getting better and better. I am no longer angry to my husband or children, when they get angry, I am not angry, I am smiling."
Every Falun Dafa practitioner on this event has own experience in person of benefiting from the cultivation. They all wish to have more people know about the beauty of Falun Dafa throng the celebration event of Falun Dafa Day and also to have more destined people hear of the Buddha Fa soon.