Truth-Compassion-Forbearance International Art Exhibition at Stanford University (Photo)
May 16, 2010 | By Li Fang
(Clearwisdom.net) The Truth-Compassion-Forbearance International Art Exhibition was held at Stanford University from May 1 to May 3 and from May 8 to May 10, 2010, by invitation of the student organization, Students Confronting the Persecution of Falun Gong.
Ha SeogOne, a graduate student from Korea and vice president of Students Confronting the Persecution of Falun Gong, said his organization aimed to attract wider attention to the persecution of Falun Gong in China. He has enjoyed improved health and energy since he started practicing Falun Dafa (also called Falun Gong) in 2006 and thought it was tragic that Falun Gong practitioners in China don't have the freedom of belief. Mr. Ha hopes the practitioners in China will regain their freedom soon.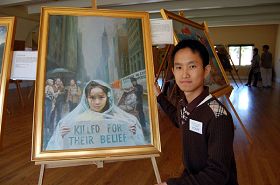 Korean graduate student Ha SeogOne and his favorite painting "The Call of Innocence"
More than 100 million people have practiced Falun Gong in China since its public introduction in 1992. However, Jiang's regime launched a brutal persecution of the practice in 1999. Persecution cases have been documented in U.N. human right reports. US Congress passed Resolution 605 last month urging the Chinese government to stop the persecution of Falun Gong.
Mr. Ha said that when he came to Stanford University, he found that most people didn't know what Falun Gong was. Some even misunderstood it. Many hadn't heard of the persecution. The purpose of the exhibition was to introduce Falun Gong and eliminate misunderstandings. The artwork exposed the brutal persecution in China and presented the peace in the hearts of those who practice Falun Gong.
Visitors to the exhibition were deeply touched. They studied the paintings carefully and were amazed by the artwork. A professor couple from San Mateo thanked the organizers with tears in their eyes. They were saddened by this unfortunate persecution. The husband left his card and asked to be informed of future activities. A middle-aged woman thanked the organizers for bringing such beautiful art to Stanford and spreading such a touching message. She said with tears in her eyes, "Thank you for telling me what is happening!"