Ottawa, Canada: Falun Gong Practitioner Recognized as an "Honored Citizen" (Photo)
May 14, 2010 | By our correspondence in Ottawa
(Clearwisdom.net) On May 6, 2010, Falun Gong practitioner Ms. Xin Qihua was recognized as a 2009 "Honored Citizen of Ottawa" at the Ottawa Citizen Service Award Ceremony held in the City Hall.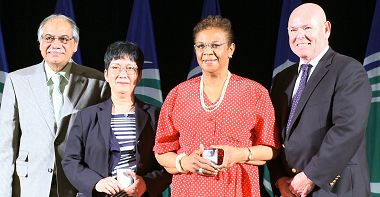 Mayor of Ottawa Larry O'Brien (first right) presents the award to Ms. Xin Qihua (second left) and other volunteers.
All the volunteers that were nominated contributed their time and effort pro bono to provide services in art, culture, environment, and health to their communities and other citizens.
Mayor O'Brien said at the ceremony the all the nominees and the winner have made special contributions to enrich the lives of the citizens of Ottawa and make the city a better place in which to live.
Ms. Xin has long been promoting the principle of Truth-Compassion-Forbearance in the community. She has made it possible for many people to understand and practice Falun Gong and gain mental and physical fitness. She is a member of the Divine Land Marching Band and spends a lot of time performing in community events.
"The fact that I was nominated shows that the Canadian government has a positive understanding of Falun Gong and approves of it," said Ms. Xin.
"In the past ten years, many Falun Gong practitioners have been arrested, tortured, and had their organs removed while they were still alive in China. I have been working on organizing activities to call for an end to the persecution.
"The Canadian government values human rights and has helped tremendously in rescuing Falun Gong practitioners from China. What I do is an extension of the Canadian government's commitment to human rights and to help more Chinese enjoy this universal value."