Additional Information Regarding the Recent Death of Mr. Liang Zhenxing (Photo)
May 10, 2010 | By a correspondent from Jilin, China
Name: Liang Zhenxing (梁振兴)
Gender: Male
Age: 46
Address: Changchun City, Jilin Province
Occupation: Unknown
Date of Death: May 1, 2010
Date of Most Recent Arrest: 2002
Most recent place of detention: Gongzhuling City Prison, Jilin Province (吉林省公主岭监狱)
City: Gongzhuling
Province: Jilin
Persecution Suffered: Detention, illegal sentencing, beatings, electric shock, sleep deprivation, forced-feedings, brainwashing
(Clearwisdom.net) Mr. Liang Zhenxing died on May 1, 2010 in the Gongzhuling Central Hospital, under the surveillance of Gongzhuling City Prison guards. Mr. Liang had been incarcerated at the Jilin Prison, Tiebei Prison, Shiling Prison in Siping City, and lastly, at Gongzhuling Prison.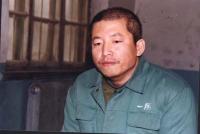 Mr. Liang Zhenxing in custody in March 2002
Falun Gong truth-clarification videos including "Falun Dafa Around the World" and "Self-immolation or Staged Act?" were broadcast for about fifty minutes at around 8:00 p.m. on March 5, 2002, on eight Changchun City cable TV network channels. Jiang Zemin, the former Chinese Communist Party (CCP) head who started the persecution, was shocked and angered, and issued a secret order to "kill [those responsible for the incident] without pardon." Soon, police officers from Jilin Province arrested more than 5,000 Falun Gong practitioners in Changchun City.
During the arrests, at least seven Falun Gong practitioners were beaten to death, and fifteen practitioners were sentenced to between four years and twenty years in prison. Mr. Liang Zhenxing and Mr. Liu Chengjun were each handed 19-year sentences, and Ms. Zhou Runjun was given a 20-year sentence. These were the longest terms exacted upon Falun Gong practitioners since the persecution started in 1999.
Request for medical parole was rejected
Siping Prison officials transferred Mr. Liang to the Gongzhuling Prision in December 2009. His family deposited 1,000 yuan for him during the Chinese New Year, but they did not hear from Mr. Liang confirming having received the money. His family called the Finance Section of the Siping Prison to inquire and found that Mr. Liang had been transferred. The money was returned to Mr. Liang's family the day following their inquiry.
The afternoon of April 12, 2010 was visitation day. Mr. Liang's family went to the Gongzhuling Prison to go through procedures to visit Mr. Liang. They were told that they had to present an introductory letter issued by the Changchun City 610 Office, proving that his relatives are not Falun Gong practitioners. Unless they had such letter they were forbidden to visit him. Mr. Liang's family said they had not seen Mr. Liang for more than four months and only wanted to make sure that he was well. Several guards at the reception room said that the prison had a rule - that no one would be permitted to meet their family members without 610 Office approval, or without having been reformed. In the end Mr. Liang's family turned to the prison head office and they explained the situation to the officials there who finally permitted them to see Mr. Liang. When they finally were able to see Mr. Liang, they saw that he was emaciated, had difficulty walking and speaking and spoke with a hoarse voice.
The prison authorities informed Mr. Liang's family on April 25, 2010, that Mr. Liang was an inpatient in the Gongzhuling Central Hospital. The initial diagnosis was that he was "in shock; effusion in his right pleural cavity, and sequential pulmonary tuberculosis on both lungs, accompanied by holes and inflammation, and interstitial inflammation-like changes between both lungs." Mr. Liang's family arrived in the hospital and found that Mr. Liang was on oxygen and an IV drip. His feet had edema, and there was subcutaneous bleeding on both sides of his feet, with blood blisters that often oozed fluid. A doctor often applied topical medication on his feet. Red marks appeared on his chest and back, resulting from subcutaneous bleeding. He was nearly blind in his right eye. He was in such great pain that he had to grit his teeth.
Mr. Liang coughed up blood on April 30, 2010. His family petitioned for medical parole. Penalty Section head Liu said that he would be released on medical parole only to a member of his immediate family who had a Changchun City registered permanent address. Only Mr. Liang's wife met this requirement. But she refused to apply for medical parole because she was unable to provide the high medical expenses and nursing care fee, as Mr. Liang had been in custody about eight years. Mr. Liang's wife requested that they transfer Mr. Liang to Changchun Tuberculosis Hospital, but the prison authorities refused her request, claiming that it was not their designated hospital. Mr. Liang's brother and sister requested medical parole for him, but the prison authorities rejected their request with the excuse that they did not meet the requirements for someone petitioning for medical parole. Requests for parole from other members of Mr. Liang's family were also turned down with the officials reason that "they are rural residents."
A partial record of the gross abuse and mistreatment inflicted upon Mr. Liang
Before he was sentenced on September 2002, Mr. Liang was held at the Tiebei District Detention Center in Changchun. Every two or three days a guard took him to be interrogated. They would cover his eyes, bring him out of the detention center to somewhere near Jingyuetan in Changchun, where there is a secret place for interrogation and torture. They would torture him there with a number of different torture instruments until wounds covered his body and then take him back.
During the trial of 15 Falun Gong practitioners at the Changchun City Intermediate Court in mid-September 2002, the police took the practitioners to individual rooms in the court and violently beat and shocked them with electric batons. Mr. Liu Chengjun, Ms. Chen Yanmei, Mr. Liang Zhenxing and others were later carried back to their cells. Regarding the police atrocities committed in the court, an official from the Jilin Prison claimed, "Everything that had taken place in the court had nothing to do with them. Changchun City Police Department officers did that."
Mr. Liang was handed a 19-year prison sentence and held at the Jilin Prison. Division No. 6 guard Zhou ordered inmates to beat him. Guards put him in the Corrections Center in 2002, to torture him twice on an "Immobilization Bed" device that consists of a 6-foot-long wooden board with steel plates fixed at each end. Holes in the steel plates are used to fix handcuffs and shackles. In addition to the function of "stretching," the main function of this device is to immobilize the victim. The victims were only released from the torture device when having a bowel movement; urinating and sleeping spelled no such release. This torture device causes tremendous pain for the victim and in some cases it has led to permanent disability.
In mid-March 2003, Mr. Liang, Mr. Lei Ming, Mr. Liu Chengyun, Ms. Wu Yifeng, Mr. Wang Jing and others were subjected to torture to extort a confession, at Division No.1 of the Changchun City Police Department and the Development Zone Criminal Police Division.
Mr. Liang was sent to the Corrections Center in October 2003 and subjected to torture on the "Immobilization Bed" at the end of October.
Li Ming from the Jilin Prison beat Mr. Liang with plastic tubes near the 2003 Chinese New Year. Li knocked Mr. Liang down to the ground, causing Mr. Liang to strike his head against a radiator. He bled profusely and lost consciousness. The guards also forced Mr. Liang to sit on a wooden ledge less than one inch wide and even to sit on the sharp edge of steel angle stock for more than 12 hours every day. As a result, his buttocks festered and bled.
Ward No. 6 head Wei Xianghui told the prisoners who monitored practitioners, "You must not be soft in dealing with Falun Gong practitioners." Head prisoners in Ward No. 6 Li Ming, Zhao Guangcun, Liu Gan and Chen Zhiqiang severely abused and beat Mr. Liang, Mr. Yang Guang and other practitioners. They used their hands to squeeze the victims' testicles, poked their fingers into the space between the victims' ribs, whipped them with a rubber hose filled with water, and kicked the practitioners' backs with their heels.
Mr. Liang was placed under strict control in July 2004 for more than two months because he refused to reform. The tortures he was subjected to included: tiger bench; head covered with a plastic bag; nailing pins into his fingernails; handcuffing his arms behind his back; shocking him with electric batons, and burning him with a red-hot screwdriver heated on an electric stove. Mr. Liang was once exposed to freezing cold overnight during the winter, with his clothes stripped off and cold water poured on him.
Mr. Liang was transferred from the Jilin Prison to the Tiebei Prison in Changchun City in early April 2005. Because he kept studying the teachings of Dafa and doing the Falun Gong exercises, division head Wang Xiaoguang and political head Zhang Lizhou ordered inmates to beat him.
Mr. Liang was transferred again, in the second half of 2005, from the Tiebei Prison to the Shiling Prison where he was held in the education ward. He was forbidden to speak with anybody. Mr. Liang held a more than three-month hunger strike in protest. He was physically weak, and his condition was precarious.
Mr. Liang started another protest hunger strike on May 6, 2006. The prison hospital doctors force-fed him while he was shackled and handcuffed to a bed frame. He had to relieve himself in bed. The feeding tube was left in him after the forced-feeding to increase his pain. Mr. Liang's wife went to visit him in the Siping Hospital, where she saw her husband in handcuffs and shackles. He told her that he was forbidden to speak with anyone while in prison. Those who looked at him or talked to him would be beaten. The prison authorities intended to videotape Mr. Liang and his wife's meeting, but Mr. Liang's wife sternly refused.
Shiling Prison officials called Mr. Liang's family (his elder brother and others) on June 5, 2006, telling them to come visit Mr. Liang, but forbade his wife to visit him. They said that Mr. Liang had been on a hunger strike for nearly a month and he was extremely weak. Two guards carried Mr. Liang out to meet his family; a feeding tube was still in his nostril. About 16 guards surrounded Mr. Liang's family. This time the prison authorities forcibly videotaped the whole visit, but videotaped from behind Mr. Liang. When Mr. Liang's family protested the videotaping, a guard threatened them and said they could leave if they did not want to meet with Mr. Liang.
It was hot in June 2006. People wore T-shirts, but Mr. Liang wore winter clothing. He said he was cold. His family member lifted his clothes to try to find what was wrong with him, but prison officials hurriedly carried Mr. Liang away, and the visitation was stopped.
In July 2006, Changchun City 610 Office agents tried to force practitioners at the Shiling Prison to give up Falun Gong. Mr. Liang refused to comply. The prison guards force-fed him through a nasal tube and simply left the tube in at the end of each day's feeding, to prolong his agony.
Two prisoners often carried Mr. Liang to the second floor in an attempt to brainwash him. Mr. Liang refused to listen and watch. Education ward head Yin Shoudong, guard Yang Tiejun, officer Wu Tie and others shocked him with four electric batons simultaneously. He could no longer bear such torture and jumped down from the staircase twice, and during one occasion he bumped his head against the edge of a radiator, causing a skull fracture, which left a deep, 2-inch scar.
Shiling Prison officials grossly abused practitioners on March 2, 2007. They placed the practitioners in solitary confinement, hung them up, humiliated them, verbally abused them and tied them up on the death bed. Mr. Liang was forced to sit on a small bench while shackled. The guards urged prisoners to verbally and physically abuse him. Perpetrators participating in this severe abuse were Yan Dequan, Zhu Yonghua and Wang Enguo.
Mr. Liang was transferred in December 2009 from the Shiling Prison in Siping City to the Gongzhuling Prison in Jilin Province. He was at the brink of death from the torture and abuse he had experienced. Mr. Liang died at around 10:00 a.m. on May 1, 2010 in the Gongzhuling Central Hospital.
Address of the Gongzhuling Prison in Jilin Province: 1002 Mail Box, Gongzhuling City, Jilin Province, Zip code: 136100
Switchboard at the prison: 86-434-6287281, 86-434-6289063
An Ping, Gongzhuling Prison director: 86-434-6287281 ext. 2001
Su Baochen, deputy director: 86-434-6287281 ext. 2002
Fu Guodong, deputy director: 86-434-6287281 ext. 2003
Chen Zhongbin, deputy director: 86-434-6287281 ext. 2004