Hong Kong: Rally Held to Commemorate the April 25 Appeal (Photos)
(Clearwisdom.net) On April 24, Falun Gong practitioners from Hong Kong and other human rights organizations held a parade and rally, commemorating the peaceful appeal 11 years ago.
More than 200 practitioners demonstrated the exercises at Victoria Park in the morning. A rally was held in the afternoon.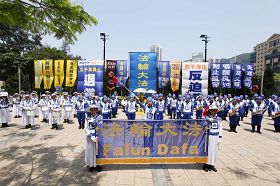 The Divine Land Marching Band performs at the rally.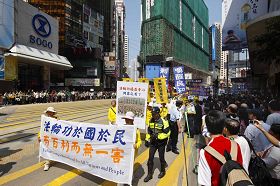 The parade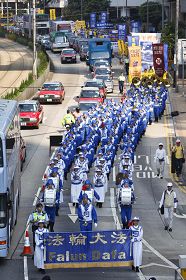 The parade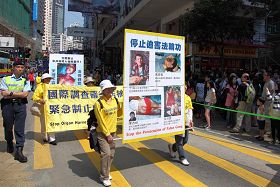 The parade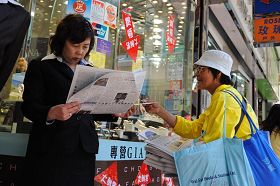 A citizen is reading the truth-clarifying material.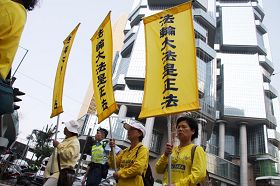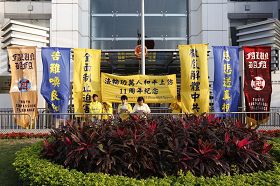 A practitioner is reading an announcement in front of the Liaison Office of the Central People's Government in the Hong Kong S.A.R.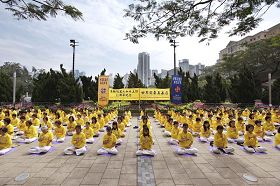 Group exercises before the rally
Many human rights activists from Hong Kong, Taiwan, and China gave speeches. They highly praised Falun Gong practitioners' peaceful resistance against the persecution, and called for the end of the persecution. The speakers condemned the persecution. They pointed out that many perpetrators involved in the persecution have been sued and many people have learned the truth of the brutal persecution.
Attendees called upon the Chinese people to recognize the evil nature of the Chinese Communist Party. A volunteer from the Service Center for Quitting the Party in Hong Kong said that the service center passes out thousands of copies of the Nine Commentaries on the Communist Party every day. At some events, citizens wait for copies of this book in lines, and the service center needs to bring dozens of boxes of this book to the events.
A representative of Falun Gong practitioners read an announcement at the rally, stating that Falun Gong practitioners peacefully resist the persecution and try to clarify the truth to the public, giving people chances to choose between evil and good.
A parade was held after the rally. It went through the downtown area and stopped at the Liaison Office of the Central People's Government in the Hong Kong S.A.R.
The Divine Land Marching Band performed in the parade and attracted many spectators. Many Chinese tourists were amazed by the parade. They accepted the truth-clarifying materials, and some of them expressed their support.
The parade went on for three hours. Many people took photos of it. Practitioners passed out a lot of materials during the parade.
Background:
On April 25, 1999, over 10,000 Falun Gong practitioners in China gathered outside the State Council Appeals Office to demand their basic rights of belief and the immediate release of 45 fellow practitioners who had been unlawfully arrested. Though as a result of the appeal the Chinese Communist regime promised to protect the practitioners' rights and released the arrested practitioners, three months later, the regime started a nationwide persecution to "eliminate Falun Gong." The brutal persecution has continued for nearly 11 years.