Taipei, Taiwan: Press Conference Held to Commemorate April 25 Appeal (Photos)
(Clearwisdom.net) On the afternoon of April 24, about 800 Falun Gong practitioners gathered in front of Taipei's 101 Tower for their "Stop the Persecution of Falun Gong & Commemorate the Eleventh Anniversary of the April 25 Appeal" press conference. The event was hosted by the Taiwan Falun Dafa Association. Many scholars attended the conference to voice their support. The rally also attracted many mainland Chinese tourists.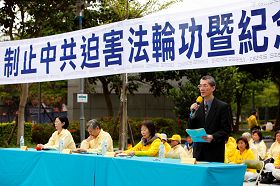 On the afternoon of April 24, the Taiwan Falun Dafa Association held a press conference to mark anniversary of April 25 Appeal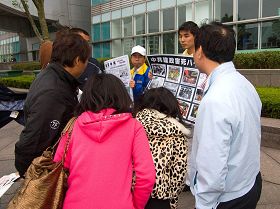 Practitioners' truth-clarifying posters attract many Mainland Chinese tourists
There were several hundred Mainland tourists at the Taipei 101 Tower plaza and they could clearly hear the press conference across the street. In addition, practitioners walked around the plaza displaying truth-clarifying posters. Some tourists took photos of this scene while many others stood quietly to listen to the speeches made by the practitioners and invited guests.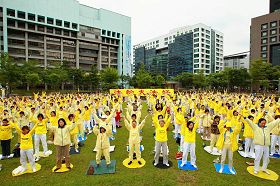 Group practice during the press conference
Practitioners, including many senior citizens and youngsters, demonstrated the Falun Gong exercises in yellow exercise suits. The policemen on duty were impressed and said: "This practice is very good. There are youngsters and elderly people, the scene looks very peaceful." A Xinyi District police officer also learned the first exercise of Falun Gong at the site.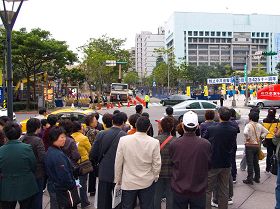 Across the street, Mainland Chinese tourists observe the press conference and rally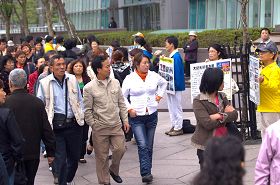 Chinese tourists pass by practitioners with truth-clarifying posters
A Mainland Chinese tourist walked over to the press conference site to take photos. He said that this was his first time he'd seen a Falun Gong group practice scene outside China. He recalled that parks in Mainland China were always packed with practitioners in the morning prior to the persecution. He said that he had a Falun Gong practitioner colleague whose last name was Zhang. Regretfully, he said that Mr. Zhang was arrested and put in prison. "After Zhang was released, our manager told us that we shouldn't talk about his arrest and let's protect him.
"We all know that the Chinese Communist Party (CCP) is no good and yet everyone has such a big fear of the party. Even the victims of the Tiananmen massacre can only make some noise outside China. However, Falun Gong has been resisting the persecution and exposing the party's crimes for so long."