San Francisco: Candlelight Vigil Held to Commemorate the Eleventh Anniversary of the April 25 Appeal (Photos)
(Clearwisdom.net) In the evening of April 24, 2010, over 200 practitioners in the San Francisco Bay Area held a candlelight vigil outside the Chinese Consulate to commemorate the eleventh anniversary of the April 25 appeal, and to memorialize the over 3,000 fellow practitioners who have died as a result of the persecution. Many banners were displayed by the practitioners. They also held a large scale group practice at Porthmouth Square in San Francisco's Chinatown during the daytime.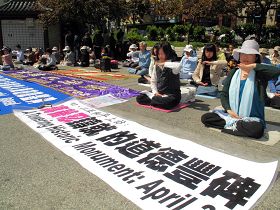 Group practice at San Francisco's Chinatown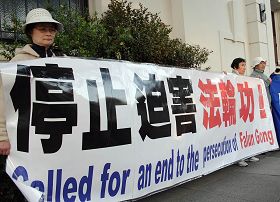 Banner calling for an end to the persecution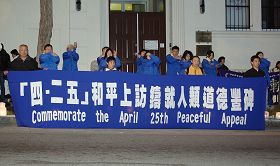 Candlelight vigil held at the San Francisco Chinese Consulate
Practitioner Li Baoyun is from Mainland China. She said: "Such a wonderful practice is being persecuted by the CCP, but I hope that all kindhearted people will pay attention to the persecution and urge the CCP to end it as soon as possible."
Baoyun was once diagnosed with pancreatic cancer. However, she quickly became healthy after she started to practice Falun Gong in 1997. After the Chinese Communist Party (CCP) started to persecute Falun Gong in July 1999, she was arrested and detained in Dabei Prison in Shenyang, and was forced to do hard labor from 6 a.m. to midnight every day. She was also subjected to brutal torture.
Shen Shumin participated in the April 25 appeal in Beijing 11 years ago. She said that back then, over 10,000 practitioners went to the State Council Appeals Office peacefully to request the unconditional release of 45 practitioners and the freedom to practice Falun Gong publicly.
Shen said: "We all went there with a very simple thought: Falun Gong is a great practice which has benefited so many people and society. After we heard about the Tianjin incident in which practitioners were beaten up and arrested for conducting a peaceful appeal, we all wanted to appeal to the State Council Appeals Office. We went there to peacefully and rationally clarify the truth about Falun Gong to the government. The appeal actually set a good example for everyday people... In the past 11 years, many people have gradually recognized the evil nature of the CCP. However, there are still people who do not know the facts, so we will continue our truth-clarification effort."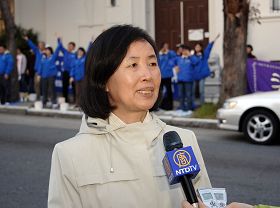 Practitioner Lu Jianhua
Lu Jianhua was persecuted in China for five years. She said that Falun Gong gave her health and compassion. For this reason, she went to appeal for Falun Gong and tried to tell the public that Falun Dafa is good. She was arrested twice and brutally tortured for doing so.
Lu said: "This is my first time to return to this Chinese Consulate in 10 years. The persecution is still happening in China and there are tens of thousands of Falun Gong practitioners who are being detained in prisons and labor camps. We are here to memorialize fellow practitioners who have been persecuted to death and request the CCP to release all detained practitioners and to end the persecution."