California: Divine Land Marching Band Performs at Picnic Day at UC Davis (Photos)
(Clearwisdom.net) On April 17, 2010, the Divine Land Marching Band, consisting of Falun Gong practitioners from California, attended the 96th Annual Picnic Day on the campus of the University of California, in Davis.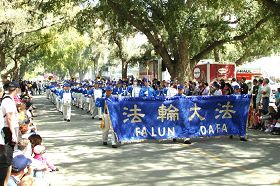 The Divine Land Marching Band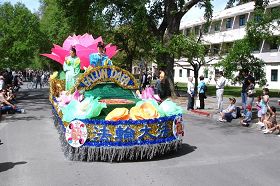 Falun Gong practitioners' float
Picnic Day is one of the largest events on the UC Davis campus. It includes all kinds of activities, including a parade, games, animal shows, food, etc. Many citizens from nearby towns and alumni of UC Davis come to the annual event.
The Divine Land Marching Band, performed for the third time at Picnic Day. Their performances and the beautiful float were warmly welcomed by the spectators.
According to Ms. Monica Lindholm, chairwoman for Picnic Day, more than 200 groups participated in the event and over 100 thousand people attended.