Montreal: Bloody Harvest Book Signing at McGill University (Photo)
April 14, 2010 | By Xiao Yan
(Clearwisdom.net) David Matas and David Kilgour, authors of the book Bloody Harvest--The killing of Falun Gong for their organs, had a book signing at McGill University on April 8, 2010. David Matas is a human rights lawyer and a 2010 Nobel Peace Prize nominee. David Kilgour is a former Canadian Secretary of State for Asia-Pacific.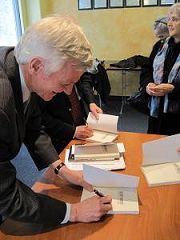 David Kilgour, co-author of Bloody Harvest, signing his book at McGill University.
A student of McGill University burst into tears at the book signing. She remembered what happened to a friend of her mother's.
"(The Falun Gong practitioners) saw her laying on the ground with her chest open and all her organs were missing. They tried to find out what happened, but the authorities made things difficult for them," said the student.
"If I lived in China, I could be a Falun Gong practitioner. Even if I was not, my friends, my mother and my aunts might be. This is shocking."
She told the reporter that it was hard for her to believe such terrifying crimes are happening now. She asked the two authors to sign on the book she just bought and wished to learn more about what had happened. "After all, (China) is my parents' homeland and I hope such horrible things can stop."
Professors and students from the McGill University and residents from the community were seen at the book signing. The two authors talked about the evidence they have collected over the past four years that can prove that organ harvesting from living Falun Gong practitioners is happening in China.
Kilgour said that they have come to the conclusion that the Chinese regime employed the government system, military and hospital system to harvest organs from imprisoned living Falun Gong practitioners on a large scale.
Matas believes what they did was not something that could easily be done by any human rights group. "Being a member of a human rights organization, I know they try to avoid extremely complicated matters as such. If we did not do it, no one else would have," said Matas.
Bloody Harvest was published in October 2009. It was on the Winnipeg Bestsellers list for two weeks. The first edition was sold out in two months and the second edition has basically sold out by now. The two authors answered questions from the participants and signed their books.
Background
On July 6, 2006, after a comprehensive investigation, David Kilgour and David Matas released a 68-page long report- Report into Allegations of Organ Harvesting of Falun Gong Practitioners in China- to the media in Ottawa. In the report, it refers to the crime committed by the Chinese regime as "a form of evil yet to be seen on this planet."
The report was revised three times and the book Bloody Harvest--The killing of Falun Gong for their organs was published in October 2009.