Two Practitioners Sentenced to Long Terms in Gansu Province Women's Prison (Photo)
(Clearwisdom.net) Ms. Zhang Zhenmin, 47 years old, is a Lanzhou Meat Packing Plant employee. Ms. Zhang Ping, about 40, was formerly employed at the Gansu Trust Investment Corporation, Bond Division, which was recently renamed the Hualong Bond Corporation. After starting to practice Falun Gong, they held themselves to the standard of Truthfulness-Compassion-Forbearance to be better people. Because they would not give up their beliefs, they were mistreated and tortured by communist regime agents. Ms. Zhang Zhenmin was sentenced to eight years and and Ms. Zhang Ping to five years, and they are now in Gansu Province Women's Prison. Their captors force them to do hard labor, brutally beat them, shock them with electric batons, and torture them with other devices.
Abiding by Truthfulness-Compassion-Forbearance despite an eight-year sentence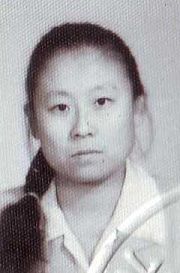 Ms. Zhang Zhenmin
The morning of May 3, 2002, officers from Lanzhou City Suburban Police Department went to Ms. Zhang's home. They pretended they needed to check for a gas leak and deceived her into opening the door. They took her to the Xiguoyuan Detention Center and later transferred her to the Hualinshan Second Detention Center, where she was forced to do forced labor. The police put her in shackles and handcuffed her behind her back and used a No. 8 BWG metal wire (about 4 mm in diameter) to connect her chains and handcuffs behind her back. Trussed up like this, the person cannot stand or squat and is forced to kneel. Thus immobilized 24 hours a day, Ms. Zhang had to ask others for help to eat and use the toilet.
She was tortured like this for 39 days. Her entire body was swollen. The handcuffs cut into her flesh and were difficult to remove once opened. She was unable to raise her legs or arms or stand for a few days once both restraints were removed.
Lanzhou City Suburban Court officials covertly sentenced Ms. Zhang to eight years of imprisonment on December 10, 2003, Human Rights Day. She appealed to the Lanzhou City Intermediate Court. Her appeal was rejected on January 16, 2004.
Ms. Zhang is currently detained in Division 4 of Gansu Province Women's Prison located in the Jiuzhou Development District, where she is forced to do daily slave labor. Guards beat her brutally in July 2004 for cleaning the slanderous words off of a bulletin board. The guards hung her up and beat her with electric batons. Later, she was locked up in the wash room and hung up while handcuffed for as long as seven or eight days, resulting her being barely able to raise one of her arms.
Ms. Zhang Ping tortured many times and sentenced to five years
Ms. Zhang Ping has been detained and tortured repeatedly since July 20, 1999 [the onset of the persecution of Falun Gong], including being immobilized on a metal chair for five days and nights. She was detained many times and escaped several times. Police listed her as wanted. In the end she decided to leave home and moved from place to place to avoid further persecution.
Wei Dong and another police officer, Lu, as well as agents from Lanzhou Police Department Division 1 went to Ms. Zhang's home on August 13, 2002, to arrest her. Wei Dong beat her ruthlessly and used a one-foot-wide strip of fabric as a rope to restrain her mouth and neck, which lasted four or five hours. Police then took her to the State Security Division and interrogated her there overnight. They took her to the Xiguoyuan Detention Center in Lanzhou City the following day.
Detention center officials put her in shackles and handcuffs. The shackles weighed about 20 pounds and were connected to the handcuffs. Ms. Zhang had to curl up and was unable to eat for 24 hours. They then force-fed her. Her face was injured and she kept vomiting and spitting blood. They eventually sent her to a hospital for treatment. She left the hospital more than 40 days later and was transferred to Shaanxi Province.
Ms. Zhang was arrested again in June 2005 and held at the Hualinping Second Detention Center in Lanzhou City. During the arrest, the police took her bank card, with a recorded deposit of a buyout payment from her employer of more than 30,000 yuan.
Ms. Zhang was once again locked up, this time in 2006, in the Lanzhou City First Detention Center. She went on several persecution protest hunger strikes. This resulted in tube force-feeding each time. After being force-fed in mid-April 2006, she vomited repeatedly and was eventually admitted to the labor camp hospital on the eighth day. Guard Tian Qingping and others handcuffed and shackled her behind her back during her hunger strike and sent her thus immobilized to the labor camp hospital. She lost bowel and bladder control as a result of the abuse.
Xiguqu Court officials in Lanzhou City held a hearing for Ms. Zhang in Room 3 at 10:30 a.m. on July 11, 2006. She was sentenced to five years of imprisonment and detained at the Gansu Women's Prison. Her captors immediately placed her in a month-long solitary confinement for calling out, "Falun Dafa is good" when entering the cell. Her poor health made her end up in the Kangtai Hospital (the labor camp hospital). When she returned, they placed her in Division 3. Wang Fukun, Division 3 leader, put her in handcuffs. She was forced to do hard labor during the day and was deprived of sleep at night. Inmates were assigned to watch her all the time for 10 days. Someone reported her to the guards when she did the Falun Gong exercises in November 2006. She was put in shackles and handcuffs for 14 days. The shackles and handcuffs were not removed until she wrote a self-criticizing statement against her conscience. She is still being held in the prison and being grossly abused and mistreated.
Ms. Zhang's mother, Ms. Long Lianqin, was also detained several times and sent to a brainwashing center for handing out Falun Gong information. Her mental state was severely impaired. She was in a coma and hospitalized not long after being sent to a brainwashing center in October 2002. Prior to her release, she had to remain hospitalized for several months, due to her extremely poor physical condition. She died in September 2005, having been severely physically and mentally traumatized. Ms. Zhang's family members asked the authorities many times to let her visit her mother before her death, but to no avail.
Gansu Women's Prison:
68 Jiuzhou Development District, Lanzhou City, Gansu Province, Zip code 730046
Prison Head Gan Yumei; Deputy Heads Dai Wenqin and Zhu Xianzhong
Prison Affairs Section Heads Yuan Jinping and Ding Junhuan
610 Office: Zhu Hong, Sun Liwei, Xiao Jing, Cao Meng