Promoting Falun Dafa in Gdansk, Poland (Photos)
March 25, 2010 | By a Falun Dafa practitioner from Poland
(Clearwisdom.net) On March 20 and 21, 2010, Polish Falun Dafa practitioners went to Gdansk, a northern harbor city, to clarify truth of the persecution of Falun Gong in China and promote Falun Dafa. A tent was set up at a commercial strip across from the railway station, and their display boards and banners were unfolded. Over the two days, practitioners collected signatures to protest the persecution and clarified the facts to local residents.
Reading the display boards
Falun Gong exercise demonstration
Gdansk is the hometown of the former President of the Republic of Poland, Lech Walesa. A Nobel Peace Prize winner, he helped lead Poland in abolishing the communist government and was regarded as the "Pride of Poland."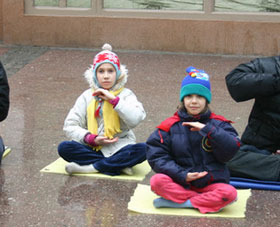 Little children learning the Falun Gong exercises
Even though it was a rainy day, many gathered at the display boards and read them carefully. When they learned that the Chinese Communist Party is responsible for harvesting organs from living Falun Gong practitioners, they were outraged and said, "Only the Communist Party is capable of doing such inhuman deeds."
The practitioners demonstrated the Falun Gong exercises again and again to the peaceful music, and many people were drawn to come and learn the exercises.
An older lady wanted to learn the exercise to improve her health, but she was concerned whether or not she could endure it, since she just had a surgery recently. A practitioner encouraged her to try. The first time, she raised her arms to embrace the circle for five seconds. She tried again for ten seconds and said, "I clearly felt an electric current going through my arms." She wanted to join the free teaching class, so the practitioner gave her the local group practice site contact. As she walked away, the lady repeatedly said, "Falun Dafa is great, Falun Dafa is great!"
A resident reads a display board
A mother and her children asked if young kids could learn the exercises, too, and got a positive answer. So the mother let her children join the group to learn the meditation exercise. The young kids sat up straight for a long time in the cold weather.
Many passersby took fliers and began to read them. Some returned with a sincere, "Thanks."