Seventy Year-old Practitioner Unable to Return Home Due to Persecution (Photo)
March 02, 2010 | By a correspondent in Jiangsu Province, China
Name: Qian Fengcheng (钱凤成)
Gender: Male
Age: 72
Address: Xinxing Town, Yancheng City, Jiangsu Province
Date of Most Recent Arrest: Unknown
Most Recent Place of Detention: Hongzehu Prison (洪泽湖监狱)
City: Sihong County
Province: Jiangsu Province
Persecution Suffered: Sleep deprivation, brainwashing, illegal sentencing, imprisonment, detention, harassment
(Clearwisdom.net) Falun Gong practitioner Qian Fengcheng cannot return to his home because of persecution. On Chinese New Year's Eve 2010, and again two days later, four police officers from Xianfeng Police Station in Yancheng City went to Qian's home and harassed his family, causing them a stressful Chinese holiday.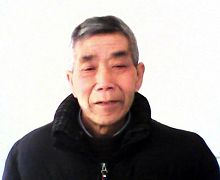 Mr. Qian Fengcheng
Mr. Qian has been arrested by Chinese Communist Party (CCP) officials many times. Since 1999, he has been taken to brainwashing centers five or six times, where he was sometimes deprived of sleep for two weeks at a time. He was once handcuffed for 14 days. During that time, his hands were cuffed behind his back for five days and in the front for nine days. He was later taken to Hongzehu Prison, where he was persecuted for four years.
The local police have been harassing Mr. Qian at home since August 2009. In order to avoid further persecution, the elderly practitioner cannot return home and was forced to become homeless. Local police, prosecutors, and the 610 Office have formed a special team to search for him in Hongzhou, Shanghai and in other areas, again and again. They also threaten and intimidate his relatives and children. They search for him day and night. They monitor and track all his friends and relatives, including their phone calls. They have even offered a cash reward for his capture.
It was said that this special team from police headquarters threatened and intimidated Mr. Qian's over 90 year-old father, ordering him to hand over his son. Mr. Qian's father was literallyscared to death. There were no relatives by Mr. Qian's father's side when he died because the phone service had been cut off and relatives were not informed.
Yan Yiming, persecution leader at the Tinghu Police Station in Yancheng City: 13365180235
Original article date: 2/22/2010