San Francisco Falun Gong Practitioners Participate in St. Patrick's Day Parade (Photos)
March 15, 2010 | By Wang Ying
(Clearwisdom.net) On the morning of March 13, 2010, Falun Gong practitioners participated in the 159th St. Patrick's Day parade in San Francisco. The practitioners' procession was warmly welcomed by the spectators and the parade organizer.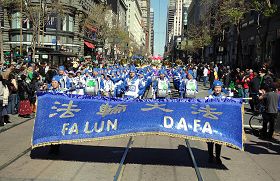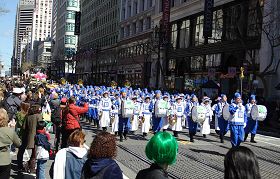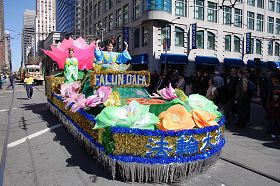 The Falun Gong practitioners' procession brings happiness to the parade spectators
The St. Patrick's Day parade, held each year in March, is a tradition of the Irish immigrants in North America. The wearing of the green, kilts, bagpipes, and Irish step dancing are all indispensable parts of the St. Patrick's Day parade.
Among the 150 groups in the parade, the Falun Gong procession was unique. It included the Divine Land Marching Band, an exercise demonstration, and a float. Several hundred thousand people watched the parade.
As the band marched by playing "Falun Dafa Is Good," San Francisco resident Alison applauded enthusiastically. She said that the band's performance was wonderful. When she learned that the principles of Falun Gong are Truth-Compassion-Forbearance, she said, "Wonderful. It is truly wonderful."
Peter, from Ireland, said he very much enjoyed the music and the band's performance. "I especially like their costumes and even pace. I like Falun Gong's values and their effort to realize their freedom of belief [in China]. I support their freedom of belief," said Peter.
The parade organizer said he was impressed with the Divine Land Marching Band. He expressed appreciation for the band's being a part of the St. Patrick's Day parade.