Los Angeles: Asian Audience Members Amazed by Shen Yun Show (Photos)
(Clearwisdom.net) On February 6, Shen Yun Performing Arts' second performance at LA's Dorothy Chandler Pavilion in the Music Center deeply touched the hearts of many Asian audience members.
Mainland Chinese: Wish Shen Yun Would Perform in China Now
"Shen Yun is fantastic! I have never seen such a spectacular show in China," said Ms. Liu Yongping, who came from Mainland China six months ago. "I wish that Shen Yun would perform in China now!"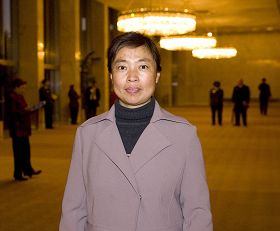 Ms. Liu Yongping
Radio Anchors: Shen Yun Will Change the World
Vietnamese language radio anchors JD Huang (left) and QB Tran: "Shen Yun will change the world"
Vietnamese language radio anchors JD Huang and QB Tran were amazed by the show and said that they learned a lot from it.
Mr. Huang said, "I saw many Shen Yun billboards before and yet I didn't have a sense of what the show looked like. Now I am just amazed and so glad that I made it...The show is not just entertaining. What is more important is the message. I listened carefully to the vocal solos and read the lyrics. All of a sudden, I realized that Shen Yun will inspire and change the world!"
Mr. Tran said that Shen Yun was a surprising present. He admired the dancers, saying, "Every dancer is very talented. The lead dancers are outstanding. They performed as a seamless team with perfect coordination. From the choreography and the stories portrayed, you learn traditional Chinese culture as well as what is happening in China today."
"I come from Vietnam, so I know how the Chinese Communist regime persecutes the Chinese people. However, I cried when I saw those acts about the persecution."
Tran added: "Shen Yun is great! We learned authentic Chinese culture, which is so different from the Communist Party's culture."