Account of a Practitioner's Change after Practicing Falun Gong (Photo)
February 26, 2010 | By Cheng Yu-yan
(Clearwisdom.net) "Before practicing Falun Gong, I had a hot temper and often argued with others." recalled Ms. Wang Hui-chen. "After practicing Falun Gong, I became considerate of others and followed the principles of 'Truthfulness-Compassion-Forbearance'. I now often review my deeds and thoughts to correct any shortcomings."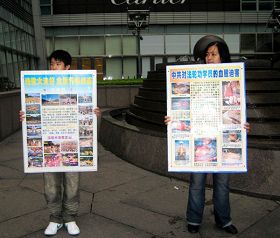 Ms. Wang Hui-chen and her son introduce the facts of Falun Gong to tourists during the holidays at a scenery site
Ms. Wang has been working in Taipei County government for 23 years. She is in charge of citizen's registration, records of moving in and out, and marriage registration, etc. Dealing with customers daily, she is busy with the work.
Finding Life's Direction Leads to a Calm Inner Heart
Since she was young, Ms. Wang has respected gods and Buddha, but was also puzzled: What is the purpose of being human? Where are we going? Why? She had no answers to these questions for a long time.
Ms. Wang found direction in her life in May 2003, when she saw Falun Gong practitioners practicing the exercises in a park in Taipei City. She started practicing Falun Gong and became calm in inner heart. Her questions were answered.
She said, "On that day, my husband and I saw a group of people practicing Falun Gong in the park. A practitioner introduced the book Zhuan Falun to us. We were delighted after reading it. It is hard to describe our excitement and delight with words." The couple started practicing Falun Gong after that day.
Altitude Change Wins Praise
After practicing Falun Gong, Ms. Wang became more modest and polite in dealing with customers. She eliminated her hot temper and became considerate of others. She considers herself as a practitioner at all times, and looks inward when facing conflicts or tribulations.
One day about three weeks before Chinese New Year, a lady came to apply for a new ID card to replace her lost one. According to the rules, other documents are required, including a driver's license and a citizen registration record, along with a photo to apply for a new ID card. But she didn't bring a photo or other necessary documents. Ms. Wang explained the procedures to her, but the lady did not understand.
Ms. Wang actively looked for her photo in the files at the citizen's records department and told her she could use the photo in the file to apply for a new ID. Ms. Wang also processed an ID loss report for her and uploaded the loss information to Ministry of the Interior website, to protect her from someone improperly using of her lost ID.
Unfortunately, the lady misunderstood her and accused her not being consistent, and said she felt the department was bureaucratic. The lady didn't accept Ms. Wang explanations, and continued accusing her. Ms. Wang patiently explained further and looked inward to determine what she had done to upset the lady. Ms. Wang apologized while bowing to the lady, "I apologize to you sincerely. I hope you don't feel bad after leaving. I hope you will be happy when you see me next time."
Ms. Wang recalled, "Before I practiced Falun Gong, it was impossible for me to bow and apologize to customers, not to mention when it wasn't my fault. This time I sincerely apologized and bowed to her after providing additional services to her."
Ms. Wang's colleagues, supervisors and secretaries saw the situation, and after a while, her supervisor said, "Hui-chen, you have been so patient dealing with customers while explaining the situations. No wonder you can do that, since you practice Falun Gong."