Korean Violinist: Shen Yun's Show Is Immeasurably Sacred (Photos)
(Clearwisdom.net)
SUWON, South Korea--Renowned Korean violinist Ji Dong-sam saw Shen Yun's last show in Suwan on February 18. "What I have learned became so insignificant after I saw Shen Yun's show. Shen Yun's orchestra makes the combination of musical instruments from the East and West sound so sacred and harmonious. I am speechless in all my admiration," Ms. Ji said excitedly after the show.

At one time, Ms. Ji held the first chair in the violin section of the most renowned orchestra in Korea. She has performed all over the world.

She especially loved the erhu performance. She was amazed by how harmonious the combination of Eastern and Western instruments sounded. "To make the combination sound three dimensional is very hard to do. Shen Yun did it perfectly."

Ms. Ji wanted to introduce Shen Yun to her friends so they get to see the shows next year. "This kind of cultural experience is rare and valuable."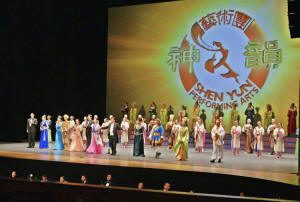 Curtain call at the Gyeonggi Arts Center Grand theater
Mythical Legend Researcher: "I saw the beauty that transcends all times"
The previous evening, February 17, Professor Kim Sun-Ja went to the Gyeonggi Arts Center Grand Theater to watch New York-based Shen Yun Performing Arts' first performance in Korea.

Ms. Kim very much enjoyed the Dance of the Dai. "I saw a beauty that transcends all times. Every artist was extraordinary. I have seen many dance performances and Shen Yun's show is certainly of high quality."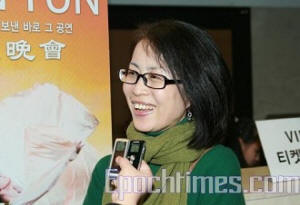 Kim Sun-Ja, mythical legend researcher and professor at Yonsei University
As for the dances depicting the persecution of Falun Gong, Ms. Kim believed that for any society to develop healthily, "it must acknowledge the existence of every group and keep them in balance. There are many problems in China currently."

Ms. Kim thinks what makes Shen Yun's show stand out is the charming classical Chinese dances and the beauty of Chinese culture from ancient to modern time. It includes the rich and colorful cultural art of all ethnicities in China. "I see the beauty in different spaces and times."

Ms. Kim wished Shen Yun could perform in Seoul next year because more people would get to see the show.
Sources:
http://theepochtimes.com/n2/content/view/30075/
http://theepochtimes.com/n2/content/view/30024/