Glowing Comments after New York's Radio City Music Hall Shows (Part 2)
(Clearwisdom.net)
Oscar-winning Actress Celeste Holm Enjoyed Shen Yun "Very Much"
NEW YORK--Shen Yun finished its fourth of seven shows at New York City's famed Radio City Music Hall on February 14, on Chinese New Year's, the first day of the Year of the Tiger. The performance of music and classical Chinese dance by the Shen Yun Performing Arts Touring Company took audience members on a journey of traditional Chinese culture.

"I enjoyed it very much. Very much!" said Oscar-winning actress Celeste Holm.

Ms. Holm came to the evening performance with her husband, opera singer Frank Basile. During her acting career Ms. Holm won the Golden Globe in 1948 for best supporting actress in the film, Gentleman's Agreement, and won an Oscar that year for the same role. Ms. Holm also won the Lifetime Achievement Award in 2000, and has three times been nominated for an Emmy.

She said the presentation of the Chinese in Shen Yun made her feel as if she gained a deeper understanding of the Chinese people.

"We made friends," said Ms. Holm.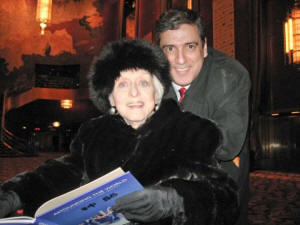 Oscar-winning actress Celeste Holm and her husband, opera singer Frank Basile, in the lobby of Radio City Music Hall after seeing Shen Yun on February 14
"We got to know [a] people we wouldn't know otherwise," she said. "The more that we know about each other, the safer and happier we are."

Shen Yun brings together a broad range of talents from around the world, including several award-winning Chinese singers, dancers, and musicians. There are three different dance companies with Shen Yun that are touring throughout the world on their 2010 tour.

"There's a lot of talent in this show," Mr. Basile said.

"There are some beautiful moments, great costumes," said Mr. Basile. "It's an insight into the Chinese culture."

"The culture is quite well presented, and beautifully presented--delicately and gracefully," said Mr. Basile. "There's a lot of beauty in the show."

Shen Yun also features several vocal soloists. As an opera singer, Mr. Basile said he enjoyed the singing, adding that the vocalists were, "Big voices. When you think of the Chinese opera, you don't think of grand opera. There are some wonderful talented, great singers in there."

In contrast to conventional Chinese Opera, Shen Yun vocalists perform in the Bel Canto style.
Lawyer: "I congratulate those who put it together"
Mr. Larry Hermann is currently a criminal defense lawyer in New York. However, he has had a varied pathway through life. He is a former major in the U.S. Marines, a former assistant district attorney in Manhattan, and has been an assistant U.S. attorney.

He was drawn to today's show due to a deep interest in China, which was fostered in his childhood. His mother had told him Chinese fairy tales when he was a child, and she collected Tang Dynasty, Song Dynasty, and Han Dynasty antiques.

"I think that it's a magnificent [show], but anybody who understands the suffering of those who believe in God in China can also have a very special appreciation of this beautiful work of art," he said. "I congratulate those who put it together."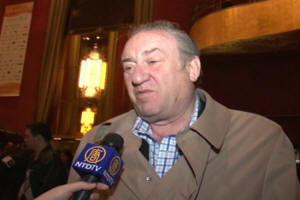 Mr. Larry Hermann thought Shen Yun's performance at Radio City was "magnificent."
He said, "I think that any government that represses truth and represses people's right to believe deserves to be treated the way they were treated here. They were treated very well here for a government that deals in organ harvesting and repression of belief."

One of the pieces, Nothing Can Block the Divine Path, depicts the story of a mother and daughter who practice Falun Dafa, a meditation practice currently being persecuted in China. The mother is taken and beaten but refuses to give up her belief.

He said that keeping people in jail only because they don't renounce their beliefs, whether they believe in Falun Dafa, Buddhism, Judaism, or Christianity, is wrong.
"An amazing display of Chinese culture and spiritual energy"
Powerful scenes in Sunday's performance resonated with international human rights lawyer Darryl Wynn.

"It's an amazing display of Chinese culture and spiritual energy," he said. "I feel that there is a lot of meaning from this show, and more people in the U.S. should be seeing it, to understand what is going on in China."

Mr. Wynn works on political asylum cases for victims of persecution around the world, and the show took on a special meaning for him with a performance depicting the persecution of Falun Gong in China.
According to the program, in Nothing Can Block the Divine Path, a mother and daughter who are doing the Falun Dafa exercises in a park are discovered by police. The police carry out orders to arrest and break the will of anyone who practices Falun Gong, and like millions of others in real life, they are brutalized. The mother is dragged to a detention center where she pays the ultimate price for trying to protect her daughter. This tragedy does not go unnoticed, however, as the heavens are watching.

"It was a very stirring, graphic display of what happens in China," said Mr. Wynn. "The suppression of religious freedom ... that stood out for me."

He said he was concerned about the human rights situation in China, and particularly of fellow attorneys who are persecuted for doing their jobs.

"It's a shame that attorneys who are trying to protect human rights are being persecuted themselves in China," he said.

Shen Yun's mission is to revive the true, five-millennium-old artistic tradition of China that thrived before decades of suppression by the Chinese communist state. The company seeks to breathe new life into traditional Chinese culture and the contrast to modern day China is apparent.

Shen Yun gave Mr. Wynn insight into the great spiritual expression of ancient China, as well as the many ethnic groups in the mainland.

"It's a very great spiritual show," he said.
Sources:
http://theepochtimes.com/n2/content/view/29733/
http://theepochtimes.com/n2/content/view/29715/
http://theepochtimes.com/n2/content/view/29713/