Dortmund, Germany: Rally Protests Hong Kong Government Interference with Shen Yun Performing Arts Show (Photo)
(Clearwisdom.net) On February 4, 2010, a rally was held in Dortmund, Germany to strongly protest the Hong Kong Government's interference with the Shen Yun show in Hong Kong. The rally also supported the march in Hong Kong with the theme, "Protect Shen Yun - Protect Hong Kong," which was held on February 1, with hopes that Shen Yun Performing Arts would come back to Hong Kong as soon as possible.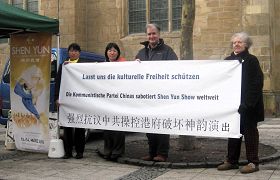 Public rally in Dortmund, Germany protesting the Hong Kong Government interference with the Shen Yun shows
The news that Shen Yun Performance Arts shows were forced to cancel in Hong Kong was broadcast at the rally, and many passersby accepted leaflets. Some showed a great interest in the US-based Shen Yun Performing Arts. One German lady said, "In China, real arts are excluded. A professor at my previous school was an artist from China. He came to Germany because he couldn't practice his arts in China. Even the Shen Yun show in Hong Kong is forced to cancel because the real arts are denied by the CCP."
Ms. Yang, an organizer of the event, announced, "As a result of the Hong Kong Government giving in to pressure from Beijing, New York based Shen Yun Performing Arts was forced to cancel shows in Hong Kong. I felt very sorry upon hearing the news. 7700 tickets for seven shows were sold-out in five days, which showed that people in Hong Kong love Shen Yun Performing Arts! More than ten of my family members have seen the Shen Yun shows and they all enjoyed them very much."
Ms. Yu who has been in Germany for only six months, said, "Many people in China are very hopeful that soon, Shen Yun will perform in China. Compared with them, I am very lucky. A month from now, I will have the opportunity to see a Shen Yun show in the theatre. I have also heard about CCP interference with Shen Yun shows, and I feel that what they have done is shameful. For example, about two days ago, in Canada, the tire of a Shen Yun Performing Arts coach was slashed. Had they not discovered the vandalism, the tire failing on the highway could have caused a crash! Once they learn these facts, the Chinese people are sure to realize that the CCP is damaging the image of China."
This is not the first time that the CCP has directly interfered with the Shen Yun shows. As early as 2008, when Shen Yun performed in Munich, Germany, the CCP Consulate officials in Munich often put pressure on the hosting company. They first used telephone harassment every ten minutes, then Wang Yanmin, deputy Consul-General, along with his assistant Chen, personally visited the theatre, threatening that whoever had contacts with Falun Gong would not be allowed to enter China. On January 6, 2009, in order to stop Shen Yun shows in Frankfurt, Li Haiyan, the then-Chinese Consul General in Frankfurt, wrote letters to German officials in German in an attempt to block Shen Yun shows. As a result, the correspondence was published by the German human rights organizations as evidence of the CCP abuse of diplomatic privilege.