Mr. Su Anzhou Lost His Wife and Son to Persecution (Photo)
December 05, 2010 | By a Clearwisdom correspondent from Gansu, China
(Clearwisdom.net) Mr. Su Anzhou and his wife Ms. Geng Cuifang began practicing Falun Gong in 1997. After the Chinese Communist Party (CCP) began to persecute Falun Gong on July 20, 1999, Mr. Su was sentenced to eight years in prison for his belief. Ms. Geng jumped from the sixth floor of a building to her death. Their son, Su Wei, died from lung cancer because he could not afford to buy medicine after both of his parents had been persecuted.
Mr. Su, born in 1953, was an employee of the Lanxi Mechanical Section of Lanzhou Railroad Bureau. Ms. Geng was born in 1954. They lived in the family compound of the Railroad Material Factory in Qilihe District, Lanzhou City, Gansu Province.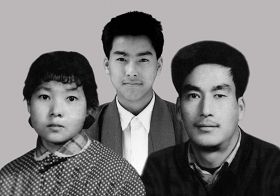 Mr. Su's family
After the persecution began, Liu Jicun, the security office director of the Lanxi Mechanical Section, repeatedly ordered Mr. Su to write a guarantee statement renouncing Falun Gong, but Mr. Su refused.
Officers from the Lanzhou Domestic Security Division illegally arrested Mr. Su at another practitioner's home on April 12, 2000. He was detained at the Yanjiaping Detention Center for 10 days.
On May 20, 2000, Mr. Su was arrested again at the State Council Letters and Calls Office in Beijing right after he handed in his letter to appeal for justice for Falun Gong. He was taken to the Lanzhou Railroad Bureau Liaison Office in Beijing. The next day, Qu Deyue, the CCP deputy at his workplace, Li Hongzhou, a security officer from his workplace, and Liu Jicun picked him up and took him back to Lanzhou. Qu bribed an officer named Wang, a deputy section chief of the Railroad Police Department, to interrogate Mr. Su through the night.
The administration of Mr. Su's work unit worried that he might go to Beijing to appeal again, so they held him in an office for seven days and nights.
Because he refused to give up practicing Falun Gong, the Lanxi Mechanical Section removed Mr. Su from his position in June and gave him only 500 yuan per month for living expenses.
Ms. Geng was arrested on July 20, 2000, in Tiananmen Square in Beijing right after she opened a banner that said, "Falun Dafa is righteous." She was first taken to the Qianmen Police Station and then to the Lanzhou Liaison Office in Beijing. Officers from the Qilihe Police Department in Lanzhou took her to the Yanjiaping Detention Center, where she was detained for 15 days.
On December 29, 2000, Mr. Su and Ms. Geng opened a banner together on the Tiananmen Square that said, "Falun Dafa is good." As a result, they were arrested. After being held at the Shunyi Detention Center for 24 hours, they were taken back to Lanzhou.
Mr. Su was detained for 15 days at the Railroad Detention Center in Lanzhou. On January 23, 2001, the Railroad Police Department and his work unit unlawfully sentenced him to one year of forced labor in the Pingantai Forced Labor Camp.
Practitioners held in the camp were forced to work from 5:00 a.m. to 7:00 p.m., and sometimes until 10:00 p.m. during the busy farming season. The guards gave them the dirtiest and hardest jobs, and ordered inmates to beat them with tree branches if they did not finish their work. After work, the guards forced them to watch videos slandering Falun Gong. The practitioners were also hung from the metal wires in the courtyard. The wires were used to dry clothes. As a result of this treatment, Mr. Su's health quickly deteriorated. He could hold his weight or stand up straight. He was released four months before the end of his term because he could no longer take care himself.
Ms. Geng was first detained at the Taoshuping Detention Center for 15 days and then held at the Xiguoyuan Detention Center. After his release, Mr. Su appealed for his wife's release to the Qilihe Police Department and the Xizhan Police Station. Officers ordered him to submit a written statement guaranteeing that Ms. Geng would not practice Falun Gong. He refused to submit such a statement. Ms. Geng was released in October 2001.
At the beginning of 2002, Ms. Geng was reported while she was placed Falun Gong truth-clarifying information around the Xiguoyuan Detention Center. She was arrested and transferred to the Xizhan Police Station, and then handed over to the agents of her neighborhood office.
Upon stepping out of his home after 6:00 a.m. on June 13, 2002, Mr. Su was taken to the security office of the Lanxi Mechanical Section by Liu Jicun, Han Rong, and others. At the same time, officers from the First Section of the Railroad Police Department went to search his home. When they arrived, Ms. Geng refused to open the door. After pounding on the door for some time, the police ordered Mr. Su to call home and tell his wife to open the door. Mr. Su called and told his wife, "Do not open the door for them." To avoid further persecution, Ms. Geng jumped from the sixth floor of the apartment building after officers forced their way in. She survived the jump, but officers blocked the neighbors from helping her. Instead of taking her to the emergency room, the policemen proceeded to ransack her home. They confiscated her bank deposit booklets, jewelry, and cash and left her to die in the street. Ms. Geng passed away at around 4:00 p.m. [Editor's note: Ms. Geng's action was entirely a result of the Chinese communist regime's brutal persecution. However, it was not in accordance with Falun Gong's principles that prohibit killing and suicide.]
Mr. Su was taken home after 4:00 p.m. and saw his wife was lying on the ground covered by a curtain. Liu Jicun blocked him from looking for help. The body of Ms. Geng was taken to the Lanxi Railroad Hospital that night. Officers at the gate of their apartment complex blocked other practitioners and classmates of her son from bringing in memorial wreaths, and dragged her sister from the scene when she uttered, "Should she be treated like this just because she practiced Falun Gong and wanted to be healthy and good person?" Four days later, the Railroad Police Department cremated Ms. Geng's body without allowing the family to view the body.
Mr. Su was arrested again on September 18, 2002. Officers Wei Dong, Wang Ping, Zhong Biao, and others tortured him on a tiger bench in the first section of the Lanzhou Police Department. They tied a belt around his mouth and fastened his legs to the metal bench. His back was secured to metal rings fastened by screws. Zhong Biao then used the handle of a rice bucket to pull upward under his arms. Mr. Su was tortured this way continuously for three days and nights. As a result, he lost the feeling in his arms and hands for eight months.
On October 27, 2002, Mr. Su was secretly sentenced to 10 years in prison, and on September 2, 2003, he was transferred to the Lanzhou Prison.
The couple's 18-year-old son Su Wei was left alone following the death of his mother and arrest of his father in 2002. Subsequently he was diagnosed with lung cancer. In June 2006, Wei's health deteriorated. Relatives and neighbors donated money to pay for his medicine and contacted the Lanzhou Prison to ask for the release of Mr. Su. On July 26, 2006, Mr. Su was allowed to go home to visit his son for two hours, accompanied by four guards. Within days, Wei was taken to the hospital after fainting on the street. His cousin paid 4,000 yuan to the hospital. When the money ran out three days later, the hospital had him dropped off in front of his apartment building. Wei died at home on August 4, 2006.
Mr. Su was released from prison on January 26, 2010, because of poor health.