Falun Dafa Around the World: Rotorua, New Zealand (Photos)
December 04, 2010 | By Minghui correspondent Tang En
(Clearwisdom.net) New Zealand is known for its native Maori culture and breathtaking scenery. The Maori's premier cultural center is Rotorua, a city on the southern shores of lake Rotorua, 230 kilometres (140 miles) southeast of Auckland. Rotorua is a major destination for domestic and international tourists. The city is known for its geothermal activity, and features geysers - notably the Pohutu Geyser at Whakarewarewa - and hot mud pools.
Falun Gong practitioners do exercises in City Focus Square in central Rotorua
Just as hot springs can relieve stress and re-energize, Falun Dafa has brought health and well-being to millions around the world. New Zealanders have personally experienced the incredible power of Falun Dafa, along with many others in 114 countries around the globe who have benefitted tremendously from the practice.
The History of Falun Dafa in New Zealand

On May 13, 2007, Falun Gong practitioners in New Zealand celebrated World Falun Dafa Day and wished Master a happy birthday
Falun Gong, also called Falun Dafa, was first introduced to the public by Mr. Li Hongzhi in May 1992. The practice emphasizes virtue and the principles of Truthfulness-Compassion-Forbearance. Founder Mr. Li Hongzhi lectured in New Zealand on May 8, 1999, and brought the blessings of Falun Dafa to the local people.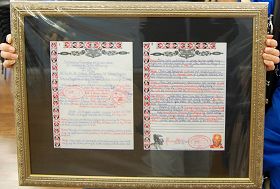 Falun Dafa Week proclamation
Falun Dafa practitioners held an event on May 8, 2009 in Auckland's Pakuranga Community Center, to celebrate the tenth anniversary of Master Li's teaching in New Zealand. Seventy-seven-year-old Amato Akarana, a hereditary Maori chief, represented the New Zealand Aotearoa Tangata Whenua Maori, the Faa Samoa, the Island of Pacifica, and the Sovereign Council of Chiefs, in proclaiming New Zealand Falun Dafa Week, for May 7-13, 2009.
Practitioners Help More People Benefit by Teaching the Falun Dafa Exercises
Rotorua Primary School students learn the Falun Gong exercises
Rotorua Primary School, whose student body consists primarily of Maori children, invited Falun Gong practitioners to teach the exercises to students for five consecutive weeks, beginning in September 2008. Many pupils felt the passage of energy. Their teachers said the practice was "great."
The Wonders of Falun Dafa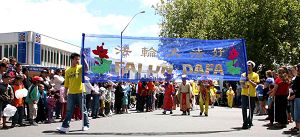 Falun Gong practitioners at the Rotorua Chrismas Parade on November 25, 2006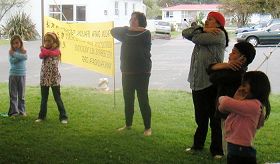 A Maori Whanau family learning Falun Gong exercises on Independence Day, October 28, 2008
Independence Day is important for the Maoris. They gather and celebrate in Waitangi. A well-received Falun Gong group participated in the 2008 events.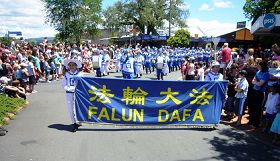 Divine Land Marching Band at the 2008 Rotorua Christmas Parade on November 29. It was the first time the band has appeared in the city and was immediately embraced by the public.
Media Reports on Persecution
The death of at least 3,400 Falun Gong practitioners as a result of persecution has been verified since the Chinese Communist party began persecution on July 20, 1999. Hundreds of thousands of practitioners have been sent to prisons and labor camps, thousands taken to mental hospitals and injected with potent psychotropic drugs, or taken to brainwashing facilities. Many others were forced to go into exile to avoid further persecution. The atrocity of harvesting organs from living practitioners has also been exposed. Over the years, the New Zealand media has been consistently exposing the persecution.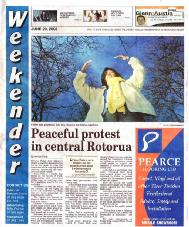 Weekender, the newspaper with the largest distribution in Rotorua, reported the peaceful appeal of Falun Gong practitioners on June 20, 2003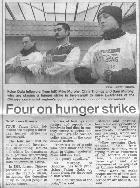 A July 15, 2003 Southland Times article reports the hunger strike of Falun Gong practitioners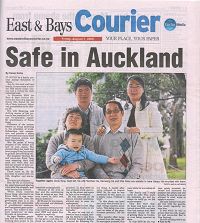 On August 7, 2009, East & Bays Courier introduced the He family, and Sanpu He's experience of persecution in China
On August 7, 2009, the East & Bays Courier published an article entitled "Safe in Auckland" that details the story of Falun Gong practitioner Sanpu He, who endured hardships and torture to be reunited with family in Auckland.
Public Outpouring of Support
People of Rotorua learning about the persecution
Falun Gong practitioners held a rally in City Focus Square on July 29, 2006 to expose the persecution and recently revealed the atrocities of organ harvesting from living practitioners.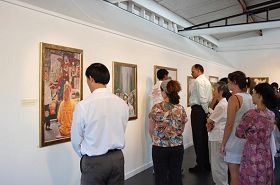 Maoris at the Truthfulness-Compassion-Forbearance Art Exhibition
The opening of the Truthfulness-Compassion-Forbearance Art Exhibition was held on January 17, 2008, at Depot Art Space in North Shore City, New Zealand. Parliament member Tau Henere sent a letter of congratulations, while Amato Akarana, a Maori chief, recited poems in the Maori language. Mr. Akarana told the guests that his whole family knows about the persecution of Falun Gong, and that he, his family, and friends will continue to support Falun Gong.
Tourists gather around Amato Akarana
Amato Akarana, 77-year-old hereditary Maori chief and member of the Council of Chiefs of the United Tribes of Aotearoa, came to the summit of New Zealand's Mt. Eden on January 10, 2010, to support a Falun Gong event. Tourists warmly welcomed him. He told the reporter, "Today I came here to express my support for Falun Gong. My tribe supports Falun Gong 100%, and I personally support Falun Gong 150%. My daughter is a Falun Gong practitioner. I am shocked by the persecution of Falun Gong, which is a challenge to humanity. Falun Gong practitioners have sacrificed a lot. I hope I can stand up, reducing their burden a little."