Ottawa: Audience Enthralled By Shen Yun's Ancient Heritage and Divine Presence (Photos)
(Clearwisdom.net) Shen Yun Performing Arts Company concluded its four-show extravagenza at Southam Hall in the National Arts Centre in Ottawa, Canada, on December 26, 2010.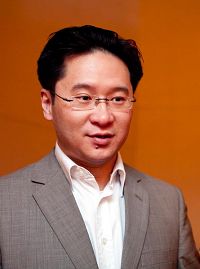 Dr. Wajeih Alaali said Shen Yun's performance brought him closer to his Chinese heritage.
Dr. Wajeih Alaali, an obstetrician at the Ottawa Hospital, said he was very impressed with Shen Yun.
"Magnificent! Everything is perfectly well done actually, the costumes, the dancing, the arrangement and everything," Dr. Alaali said.
Being of Chinese descent, he said that the show took him back in time.
"Originally, I am Chinese in origin … so I can feel the flashback from history. Because when I was young I was hearing such music … it brought me to the old days."
Dr. Alaali said that he was very much in favor of Shen Yun's goal to bringing back to life China's 5,000-year-old cultural heritage.
"The Chinese have a very deep heritage, so it's unfair, it's definitely unfair, not only for the Chinese, it's unfair for the whole world, for such a heritage to be dissolved. So, I am indefinitely insisting for such performances to go on, and definitely to keep on this heritage because it's unfair for such great heritage to give away and dissolve.
"I'm third generation Chinese in this country. I was raised on these manners so definitely I would vote for such an attitude and behavior to go on, and I am kind of very supportive of such an attitude."
In conclusion, Dr. Alaali said that he would advise the Shen Yun orchestra, which plays a combination of Chinese and Western instruments, to "go on and let the world enjoy what you are doing."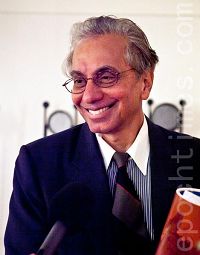 Poet and writer Cyril Dabydeen said Shen Yun was "brilliant and fantastic" after taking in the show in Ottawa on Thursday.
Cyril Dabydeen, a poet and writer, described Shen Yun as "brilliant and fantastic."
Mr. Dabydeen commented on the divine aspects of ancient Chinese culture that were portrayed in the show, saying, "The divine elements, for me, were the most fantastic things. It put you into a different spiritual world. And I find that very exalting and very fulfilling."
Dabydeen had seen the show three or four times and said that each time he sees it, he enjoys it even more.
"Tonight I was so pleased there was a standing ovation, which was fantastic. It's very uplifting," said Dabydeen. Adding, "I would encourage the Ottawa audience to come out in full force again and again. Each time you find something uplifting again and again and again."
Dabydeen spoke of the sense of renewal and divine presence that the performance conveys.
"This show helps us move more and more toward a new world: a world of spirituality and divine things. And that for me is so very important," Dabydeen said.
"The words [song lyrics] are so uplifting, beautiful poetry, and speaking as a writer and a poet, I could relate to that even more."